Posted by Jordan Reiss on Mar 18th 2014
It seems that each year a new series of fashion trends make their way to the church congregation. Some are fresh takes on old worship garments while others are designer clothes that introduce new styles. 2014 may have just begun, but there are already a ton of new looks appearing. From the simple to the dramatic, these five fashion trends are likely to become popular in the coming months:

Suspenders
While the belt may have taken commanding lead over the forum of holstering up pants, suspenders refuse to be overlooked. Coming in several different colors, though most commonly black or brown, these over the shoulder straps are a call back to the old days of simplicity and comfort. If you're going for a classic look that is still reminiscent of the church atmosphere, look no further.

Broad-Shouldered Coats
A good way to stay stylishly warm as spring weather makes its way in is to choose an outer layer. Big coats with wide shoulders make a statement that depicts respect and professionalism. The best part about large coats is that you can wear them regardless of what you plan to wear underneath. The choice of form and fabric dictates the overall impact of the coat, though dark colors tend to be most popular.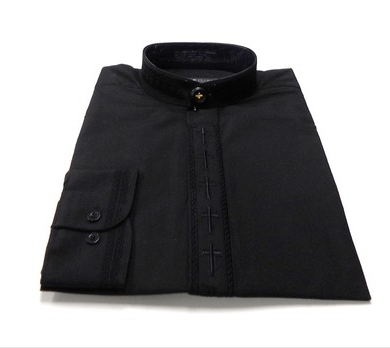 Designer Clergy Shirts
Man or woman, there is something to be said about the simple style of clergy shirts. Due to their basic form, a multitude of colors and additions can be created without straying away from the respectful ideal encapsulated by these shirts. Now that they come in designer styles, they're even more fashion-forward and can be paired along with almost anything, giving you absolutely every reason to mix or match.

Dress Hats
The history of religion and hats is long and varied, but they remain an import part of fashion in houses of worship to this day. How you choose to top your attire is up to you, but a nice pinch-front is commonly recognized as one of the classiest choices for men. Women typically have a broader selection than men, but both can benefit from finishing off their outfit with a nice accented hat.

Bow Ties
Move over long ties, the old classic has come back in style for 2014. Bow ties were widely accepted as the pinnacle of fancy dress of years past, but declined in popularity when longer ties came into vogue. You're certain to look your best sporting a bright red or stately black bow tie in 2014, however.