The Church of God in Christ, better known as COGIC, is the largest Pentecostal denomination in the United States and the fourth largest in the country overall, with over 5 million members and a history that spans back over 120 years, all the way to 1897.
The Church of God in Christ has a simple mission: To seek and save that which is lost. Among the many services they offer are a series of guides for training, conduct, and of course, vestiture.
One of our most sought-after sets is our official COGIC Class A vestment set which includes 6 pieces. Here is an overview of Class A vestments with some other information on popular vestment sets.
What Are COGIC Class A Vestments?
COGIC sets standards for Class A vestments which serve as guidelines for adherents. The following standards have been lifted directly from the COGIC's 2015 Training Manual. Specifications for Class A vestments for bishops are as follows:
●Cassock: This is the robe that is worn during services, and is a symbol both of Elders and Servants. It represents the servitude of the clergyman.
●Cincture: The cincture is the belt that encircles the cassock about the waist of the wearer. It, like the cassock, is a symbol of service - specifically, it connotes the wearer's willingness to "wash his brethren's feet" as the Lord did.
●Rochet: The rochet is a white linen garment worn over the cassock and cincture. It is a symbol of Priesthood and a reminder that the office requires the wearer to lead Celebration and Worship.
●Chimere: The chimere is worn by the bishop as a symbol of his office as Chief Defender of the Faith and Preacher of the doctrines of Jurisdiction. It is a unique vestment for a bishop.
●Tippet: Interestingly, the tippet is a mark of servility, and specifically is a symbol of slavehood. This garment symbolically binds the wearer to the church.
●Pectoral Cross: The Pectoral Cross, often of gold, is a unique symbol of a bishop and is included as a component of Class A vestments. This marks the wearer and, like the tippet, symbolizes his imprisonment in the church.
●Ring: The bishop also wears a ring, which serves as a mark of his authority.
COGIC specifies further directions for the color of Class A Bishop vestments, as follows:
For Jurisdictional bishops, the cassock, cincture, chimere, shirt, and tippet should all be purple. The rochet should be white, the cross gold, and the ring an official COGIC ring.
For Auxiliary bishops, the cassock and tippet should be black. The chimere, rochet, and shirt may be black or purple, the rochet white, the cross gold, and the ring an official COGIC ring.
Divinity Clergy Wear is proud to have partnered with COGIC and the General Council of Pastors and Elders (GCPE) to develop a set of COGIC and GCPE-approved Class A vestments. Our set includes the following:
●A black Anglican cassock
●A matching black cincture
●A white surplice with floral double lace
●A black tippet with the COGIC seal sewn-on
●A 36-inch black cord and a 2 inches wide by 3-inch long silver cross
This set has been highly approved and endorsed by Presiding Pastor Charles Edward Black because it delivers uniformity and affordability to every pastor in the Church of God in Christ.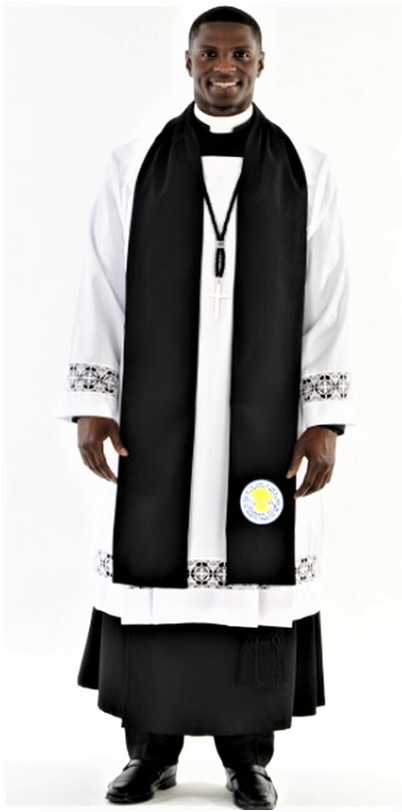 COGIC has also released a more general Class A vestment guide through their publishing house. In it, they detail the requirements for Class A vestments and taking measurements. Their publishing house guide includes requirements for:
●Anglican cassocks: The Anglican cassock is a double-breasted garment with wide cuffs and a two-inch collar opening. It should be accompanied by a matching cincture.
●American surplices: American surplices feature round yolks and a moderately full body. The garment reaches just below the knee.
●Black tippets: The tippet, a symbol of the clergyman's bondage in servitude to the church, like the surplice, should reach to just below the knee.
●Pectoral cross: Like the tippet, the cross symbolizes adherence to the church. Some priestly vestment sets contain sterling silver cross designs.
What Are Classic Apostle Vestments?
Classic apostle vestments are fairly similar to the vestments listed above. Traditionally, an apostle was a missionary sent out to accomplish the work of the Lord. The appellation is still applied in certain areas.
Apostles frequently wear red to symbolize martyrdom, passion, and faith. Our classic men's apostle vestment set in red includes 8 pieces:
●A 27 button Roman cassock
●A matching cincture
●A poly-cotton rochet
●A chimere
●A matching tippet
●And a cross and cord
We also sell matching zucchetto skull caps to complete the ensemble, in addition to less formal clerical collars and clergy shirts for collared priests going about in different habit.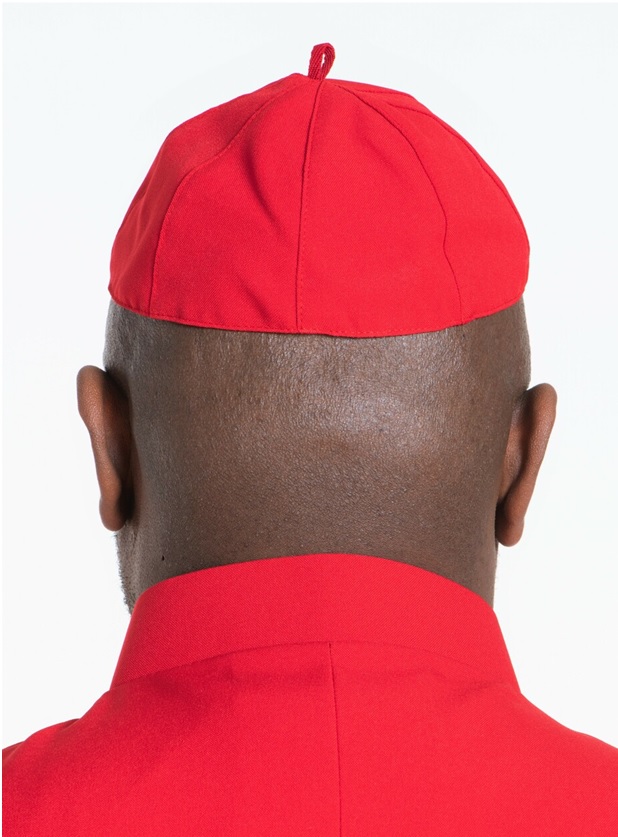 What Are Typical Bishop Vestments?
While COGIC prescribes guidelines for approved vestments for churches bishops, it is also common for bishops to be arrayed in the following vestments:
●A cassock and cincture, often of purple (sometimes a belt known as a fascia is worn instead)
●A simar, a cape worn over the cassock (or a mozzetta, a longer purple cape sometimes worn instead)
●An alb or a rochet
●A chasuble and stole or tippet
●A rabat
●A zucchetto cap or a bishop miter (also spelled bishop mitre), which is the traditional headwear of a bishop
●A pectoral cross and ring
Bishop vestments will vary by denomination, and because the office of bishop exists in many different denominations (such as in the Anglican and Catholic churches), bishop vestments guidelines will vary. Regardless, we offer high-quality vestments and clergy robes for bishops of different denominations.
Questions About Our Clergy Vestments?
Whether you're looking for pastor vestments, bishop vestments, or simply COGIC Class A vestments, we carry liturgical vestments for Catholic bishops, as well as pastors vestments, priests, or deacons, and everyone in between. We also carry clerical collars for collared priests.
We carry tippets and overlay stoles with gold embroidered crosses, Roman purple, white and red cassocks as well as sets of pastor vestments so you can bundle and save.
If you have any questions about any of our clergy vestments or accessories like clergy collars for collared priests, please feel free to reach out to us. There are a lot of rules for each denomination and we'd be happy to help you navigate them - just contact us at 877-453-3535.