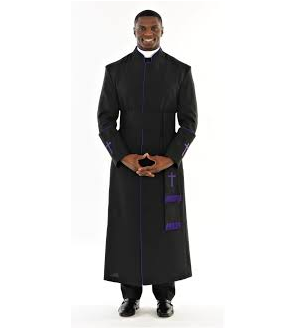 When you shop on our website, you'll find that we have an assortment of clergy wear in a variety of designs, styles and colors. At Divinity Clergy Wear, we want you to have options to choose from so that you can look your best.
We serve as an only destination for affordable clerical wear, but also as a store where you know you'll receive quality service and clothing.
If you are a preacher, you are probably familiar with the importance of wearing a robe. For one, it establishes the significance of your position as a preacher within the church. Not all preachers will dress the same, nor will they have similar styles, therefore, our preacher robes that we have in stock give options to all of our customers who visit online.
If you are interested in choosing our store to meet your clerical wear needs, we want to provide you with a few things to keep in mind to make shopping for them easier for you.
Preacher Robes: Colors
Think about your clerical style and what it is that you find you wear most in terms of color or design. If you find that your style is more simple and doesn't involve too much color, you may find our single-colored preacher robes to be your best option.
If that's the case, we have our Gershon Clergy Robe for Men in White and black if plain and simple is what you are looking for.
If you are looking for robes that have more color, we have a lot to choose from. Many of our robes that are in stock have two or more colors with them. For example, you can check out our Men's Preacher Clergy Robe in Whtie & Purple or our Men's Preacher Clergy Robe in Royal & Gold.
The color choices that we have are endless and the ultimate decision is based on your preference. If you are looking for something different than what you are used to, our selection has some great choices for you.
Sets and Pieces
Some of our clergy robes come in the form of sets where vestments and other garments are attached to complete your preacher robe. Just as our robes come in different colors, you'll find additional garments with different colors to complete your robe as well. For instance, you can shop for our Men's Preacher Clergy Robe and Cincture Set in Navy and White.
Another good choice for a robe option with more color is our Men's Preacher Clergy Robe in Red & White.
Sizing
One of the options you'll have plenty of room to choose from is our sizing. Whether you are shopping for men's clergy wear or women's clergy wear, we offer sizing ranging from small to 8XL. There's no doubt you'll be able to find a piece that fits you best and makes a great addition to your wardrobe.
If you are unsure of what size will be best for you when you find something you'd like to purchase on our website, you can always reach out to us and our team will be happy to help. Our store retains a high level of customer satisfaction and we are always looking for ways to make your experience even better.
To our customers who are local to our New Jersey location, you can even come in by appointment and get fitted at our showroom by one of our expert team members.
If you want your preacher robes to fit comfortably, be aware of your size so that you can have the perfect fit.
Accessories
If there are any additional accessories you'd like to purchase to complete the pastor robes in your wardrobe, you can do so by viewing our accessories product page. We offer stoles, cufflinks, rochets, rochets, clerical collars, surplices and much more for others prominent members of the church to wear as well.
All of our clerical attire and accessories have been carefully selected to match the needs of our customers. We pay careful attention to the pieces that are highly rated and reviewed by our customers online and make sure those who are visiting our website can have access to that feedback for additional opinions.
If you have any questions or concerns about any of our products or your order, our skilled team is ready to help you. Our team consists of experts in religious garments and are always prepared to answer the questions that you have.
Contact us today by calling: 877-453-3535. We are available Monday through Friday from 10 a.m. to 5 p.m. EST. Our physical warehouse is located in Hamilton, New Jersey where you are more than welcome to come in and get fitted if you prefer to shop for clerical attire in person.