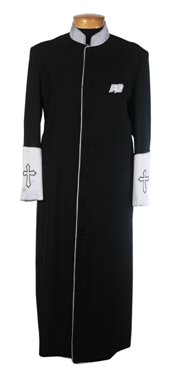 While you're shopping for clergy robes for yourself or for the members of your church, there are probably a lot of things going through your head with respect to what you want to communicate and what you are expecting in terms of style and quality.
There are so many different ways to go in today's market when you're shopping for clergy robes that the options for outfitting can seem endless. The same materialism that has gripped the rest of the market has worked its way into the sphere of influence of clergy wear.
Still, there are some excellent providers out there that make it a practice to provide their customers humbly and faithfully with robes and vestments, and we here at Divinity Clergy Wear are proud to claim ourselves as a part of this contingent.
The first thing you'll want to consider before you even start actually shopping through options for clergy robes is what you want to communicate in terms of message, emotion, and carriage.
What Message Do You Want To Send?
Regardless of the specific message you wish to deliver with your oratory or with a particular color or style of clergy robes, you'll want to communicate a sense of humility, respect, and reverence for God.
Regardless of the setting of the liturgical calendar or the selection of scripture that is the inspiration for a particular sermon or oration, you'll want to set the mood with infinite reverence and respect. A portion of this is linked to the carriage of the priest, pastor or other person delivering the message, but a portion of it is reserved for the garments worn by the practitioners.
A simple, unadorned black robe might communicate a serious dedication to a humble lifestyle and a partnership with the church and community that will allow no infractions. It is a reminder to abstain from the temptations of secular life and a commitment to the enrichment of the lives of the congregation through the infinite love and wisdom of the scripture. Oftentimes, black robes are unembellished reminders of unflinching adherence to the faith and can be a pointed way to inspire that devotion in a congregation.
Unadorned robes in other colors make similar impressions, though we'll address color shortly. We also offer robes and vestments here at Divinity Clergy Wear that impress in style and design in a very different fashion from our more austere offerings while still instilling respect and adoration for God's word and will.
A clergy member will have to make decisions about the image he or she wishes to present in order to best express his or her image as a vehicle for conveying the limitless message of God's love. To determine what robes to choose, the preacher or pastor in question needs to evaluate the image he wants to front to best communicates that message and the values associated with it. This could very much result in a situation in which there is no single best option for a clergy robe but several depending on the time of year or the content of the sermon.
There are many ways to express an image of respect and humility, and one of them is with church garments. Right here at Divinity Clergy Wear, we offer quite a selection of clergy wear of all sorts that can be used to communicate a range of emotions and effects, from the simplest, most unadorned and humble robes to robes that, while maintaining an air of respect, celebrate the glory of all creation with their beautiful aesthetics.
The Significance of Color
Another thing to consider in the design of garments for your clergy members is in the color of the garments. Color is not only intended to communicate a certain feeling or pathos to a congregation but has specific import with respect to the calendar and the rank and office of the vested member.
Black is a very common color for clergymen in the church as well as in public. A somber color, it reminds those who wear it of the severity of their office and the importance of their mission as an emissary to the people of God's message.
White is another common color of which clergymen make frequent use. In general, it is a symbol of the purity and divinity of God's love for all of creation. As such, it is frequently used during ceremonies such as weddings and religious holidays.
Red and purple are other common colors worn by clergy members and typically connote a position attained within the church. Typically only bishops wear these colors, although sometimes purple can be used for services that revolve around repentance. Moreover, purple in ancient times was costly to produce and connoted high status, so it has been reserved historically to those who held high office.
We offer vestments and robes here at Divinity Clergy Wear in a variety of colors, not only including these but many more, that you can use for different services and at different times of year to instill the congregation with the proper spirit and feeling. Below is an overview of some of the robes we offer that can satisfy a wide range of requirements.
Some Picks In Clergy Robes
One of our simplest and sternest clergy robes is our Men's 27 Button Roman Cassock and Cincture set in black. Full length and unadorned by any additional embroidery or markings, this austere black cassock and cincture present a bold and serious face before the congregation. A reminder that all that is beautiful is in the word of the Lord rather than in the images of the world, this is a fitting robe set for a preacher who desires the color to come from his speech rather than his presentation.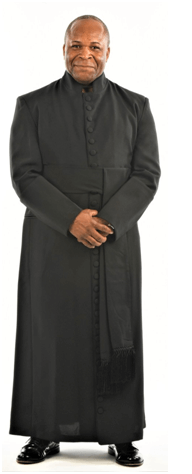 Nonetheless, it is far from an unattractive ensemble. What it presents in decorum brings similar notes of wisdom and erudition, and the simplicity of the fabric and the cut only embolden the potency of the image. If you are looking for something that is simple, ungilt and honest, this is an excellent choice from among our selection of clergy robes. Depending on the office of your clergy members as well as the message you wish to convey, this same set is available in red and purple.
If it's a slightly less austere presentation you wish to effect, then a set like our Gershon Clergy Robe For Men In Black might be a fitting alternative to the above selection. It is also a fairly simple set of robes in black, but with a touch of contrast given by a few additional details.
The first notable difference in the import of these robes is the fact that a white collar and white embroidered crosses on the sleeves give a little bit more warmth and character to the robes. In addition, the fabric itself is handsomely patterned with elegant brocade design. A simple change such as the inclusion of the brocade pattern gives these robes a completely different aspect of personability and approachability, without losing the humility and severity of the color of black.
Here at Divinity Clergy Wear, we offer many other selections in black garments and robes that bring a little bit more color to the fray. Consider our Men's Asbury Clergy Robe In Black And Silver. This is our most popular robe, and it combines the spirit of color with the straightforward sternness of black. This set of robes features an ungarnished black fabric accentuated with silver satin lining and silver cuffs embroidered with crosses. The chest showcases an embroidered bible emblazoned across the front in bright silver for even more color and light. If you're looking for black robes because of the fact that they can make a fitting set of garments at any time of year but need the differentiation of a little color, then you like so many of our other customers might make great use of our Asbury robes.
Even so, we offer black robes livened up with bright accents and colors to make more of a splash in the delivery of the word. Take a look at our Men's Adam Clergy Robe In Black & Gold. What would otherwise be a simple and unpretentious set of black clergy robes is revitalized with the skillful inclusion of color, pleats, and buttons.
This robe is available in a variety of colors in addition to gold, but the gold version makes a beautiful showcase of gold buttons, lining, and pleats. Stunning golden pleats along the back of the robe make a greater impression than uninterrupted black, similarly to how the word brings a spot of light and hope to the world.
For a rather unconventional style but a fully moving look, consider our Men's Cain Clergy RobeIn Royal Blue. These robes feature a textured front panel along with white crosses on the cuffs in a package suffused by deep royal blue. Though a somewhat rare color to find in clergy robes, we are proud to offer this model here at Divinity Clergy Wear. Blue is deep, impressive and regal in effect, and sure to impress a congregation if only by its appearance.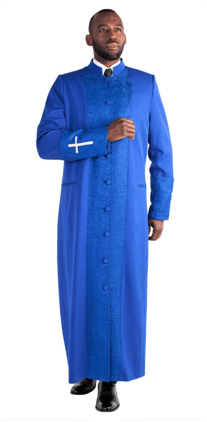 When paired with the power of a moving sermon, these robes can make an image for which there could be no equal. It is an impressive break from the overpowering popularity of black and white in which clergymen are so typically arrayed, and a powerfully refreshing one.
Another excellent selection showcasing bright and unconventional colors is our Men's Preacher Clergy Robe In Royal Blue and Gold. These brilliant blue robes are accented by sharply contrasting gold-trimmed piping and gold embroidered crosses on the cuffs. Equally as remarkable as the Cain robes, these robes are simply stunningly blue. If you are looking for a new, bright style to make an electric look, this just might be our most proper offering. It's nearly impossible not to be carried by the power and stateliness of these blue robes, and that power will translate right into the message of the sermon.
That being said, we also offer robes like our Men's Joseph Clergy Robe In Black And Gold. Although a pairing of conventional black and gold, this offering is one of our most striking selections. These robes feature a golden liturgical brocade pattern on the front as well as along the pleat in the back, which is absolutely stunning in pairing with these black robes. The contrast of the golden brocade with overarching black fabric carries a lot of momentum.
If you're looking for the sheer power of pure bright color, then our Men's Trinity Clergy Robe & Stole Set in Gold and Black might be just for you. It's one of our brightest options, with a brilliant golden robe and stole accentuated with embroidered crosses. If you're looking for something to make a clear and shining statement, this might just be our perfect offering for you.
Whether you're looking for something as simple as our Roman Cassock and Cincture or as beautifully stunning as our Cain Clergy Robes, you'll find it here at Divinity Clergy Wear. These options explored herein, however, are only a small selection of the diverse portfolio of robes and other vestments that we can offer. To really find the styles that speak to you and will make the greatest effect in your congregation, you'll have to take a look through our pages of offerings. Take a look through our catalog and you'll be sure to find everything from the plainest and humblest robes to robes with exactly the right flair and color you're looking for.
At Divinity Clergy Wear, we are proud to offer styles in vestments ranging from the most simply conservative and traditional styles to offerings that bring in the flair of modern tastes, and all with the image of glorifying God's word and the good work. All of our products represent the finest quality and keenest attention to detail possible, and we offer many selections in extended sizes. We also offer superior customer service and fast shipping as well, so give us a call today if you have questions regarding materials, products or sizing.
Sources:
N/A. "The Meaning Behind Different Colours Of Clergy Shirts." Harcourts.com. 2017. Retrieved Jan