Do you wish to be well-presented in God's presence? Then you need not be concerned with what others say! Because it is an essential aspect of your daily life and should represent your character, you deserve the finest when it comes to your attire.
A lot of the time, priests are required to dress in extremely particular robes. This includes their vestments, which serve as holy apparel, as well as dressing up in general since they may be called upon to execute any duty related to the church.
Choosing proper robes may be difficult since no two individuals dress alike and because most of the fabrics used by large corporations these days hold an excessive amount of heat that can be uncomfortable to the person wearing them.
Priest Robes: What You Should Know
There have always been some cultural standards that have been accepted and obeyed without much inquiry throughout history.
In a restaurant, for example, you've learned to assume that the family sitting next to you is using utensils while they eat. Another example would be showing up for a family dinner wearing an LBD with a plunging neckline which would be considered a tad inappropriate.
These rules apply to everyone, including the Catholic Church. Having the priest enter the church in a Clown outfit would make for an unusual opening to Sunday Mass. As a community, we've learned to anticipate that our priest will arrive at Mass dressed in a certain way for the start of the service.
Thus, the question occurs as to why Father dresses in the manner that he does at each Mass. What is the significance of his attire, and what is the story behind it?
The priest who is clothed for Mass today is a great testament to the historical foundations of the sacrament. Since their inception, the holy vestments have been worn only during liturgical celebrations, demonstrating that they have always had a liturgical significance.
The draping of the alb, dalmatic, and chasuble, among other clerical garments, emphasizes the priest's participation in the liturgy today. Since his body has been "concealed" from the liturgy's activity, the priest can focus on Jesus Christ as the genuine focal point, rather than on himself. This means that the priest doesn't put on his vestments; instead, he does it in the name of Jesus Christ.
What does a priest robe signify to the wearer?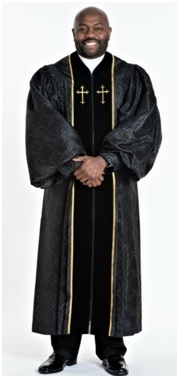 Priests are required to wear a variety of garments during the duration of their devotion to the congregation.
Wearing these robes at church signifies a person's status or prominence. Even though priests and bishops wear albs, they may also wear various garments during religious services, such as our Men's Wesley pulpit robes.
Our MEN'S JT WESLEY PULPIT ROBE, tailored in a classic design with lined bell sleeves, cuffs, and buttons, provides the user complete option of the finest silk velvets, all precisely straight stitched in place.
During Mass, the vestments are a powerful symbol of reverence and significance. Because of their religious significance, they are revered and held in great regard.
As part of the priest's vestments, they must be respected, and cannot be worn outside of religious services or other locations without the approval of a priest who regularly wears them.
What does the color of the priest's robes denote?
White and red appear in the middle of the purple and green color scheme. What do the priest's various color choices mean? The Church uses a color-coded system to designate the various liturgical seasons. Liturgical colors have been dominated by green, white, purple, crimson, and black since the sixth century.
Priests in most faiths use black robes, however, the color varies from religion to religion. Throughout the Christian faith, the color black is often connected with death and sadness.
For a variety of reasons, including their association with death and modesty, most religious organizations forbid clergy from wearing white to funerals. As a result, Catholic clergy wear red albs more often than those in monastic communities, even though white albs were first worn on Good Friday and All Souls Day to symbolize Christ's resurrection.
Priests avoid wearing black robes because of the negative connotations connected with the color, such as gloom and melancholy.
Why Divinity Clergy Wear
As previously said, the clothing worn by clergy is seen as a personal statement about their devotion to their religion. As a result, locating robes, stoles, scarves, and other necessities that are of good quality and well-made is a popular quest.
Priest robes from Divinity Clergy Wear are constructed from the finest polyester fabric and workmanship. All of these garments are wrinkle-free, light, and long-lived. Inexpensive Priest Robes of superior quality and comfort are available from our store. You are welcome to browse our site and choose the one that best suits your preferences.