Some of our most popular items here at Divinity Clergy Wear are our clergy shirts, which we offer for both men and women in an impressively wide range of styles, sizes, and of course colors.
But while it's apparent that vestments are worn solely by the clergy and their use is proscribed according to office and ceremony, there is a little bit more gray area associated with clergy shirts, such as clergy shirts for women. Here's what you need to know.
Who Can Wear Clergy Shirts?
Who can wear clergy shirts, and when, is up to debate. Certain denominations and sects may have their own rules for who can wear a clergy shirt, and when, just as there are certain prescriptions for the wearing of vestments like a stole or alb.
In the Catholic churcah, all ranks of the clergy are permitted to wear clergy shirts, and some ordained members of the church choose to wear the clerical shirt and collar all of the time, even when not engaged in the ceremony.
It is not uncommon to encounter ordained men and women in other sects and denominations arrayed in a clergy shirt and collar. Men and women in the Anglican church as well as in the Lutheran, Methodists, and Presbyterian churches all may wear clergy shirts and collars.
While it is not illegal for laypeople to wear clerical collars (which often accompany clerical shirts) it is not always appropriate for them to do so. Let the established traditions and norms of the church determine whether or not it is fitting for laypersons (both men and women) who serve as acolytes, servers, lectors, or choir members to wear clerical attire such as clergy shirts, surplices, or albs. In some settings, it is acceptable for them to do so.
Why Are Clergy Shirts for Women Available in So Many Colors?
While it is customary for many ordained members of the clergy to wear black or slightly less commonly white, clergy shirts for women, like other vestments, are available in a wide range of colors.
The appropriateness of the color of clergy shirts for women is dictated largely by the ceremony or the time in the liturgical calendar.
●Black shirts: Black clergy shirts are commonly worn by clerics of the Catholic and Methodist churches. For those that wear black clergy shirts every day, they symbolize austerity as well as serve as a reminder of the cleric's humility and servility to priestly duties.
●White shirts: When a white clergy shirt is worn, it is typically worn in celebration of a specific occasion, such as a wedding, a baptism, or other religious holiday. A white clergy shirt may also be worn sometimes in observance of a funeral, in which case it stands as a symbol of the purity of divine charity and for the hope of salvation through the Lord's grace.
●Red shirts: Red clergy shirts are commonly worn by bishops; cardinals, which hold a superior rank to bishops, may occasionally wear a variant of red, being maroon clergy shirts. These may also be worn as a symbol of Christ's passion, or in celebration of a martyred saint.
●Purple shirts: Purple shirts are also commonly worn by bishops. However, purple is a color associated with penance and remorse, and as such, some clerics wear purple clergy shirts during Lent and for wakes or funerals.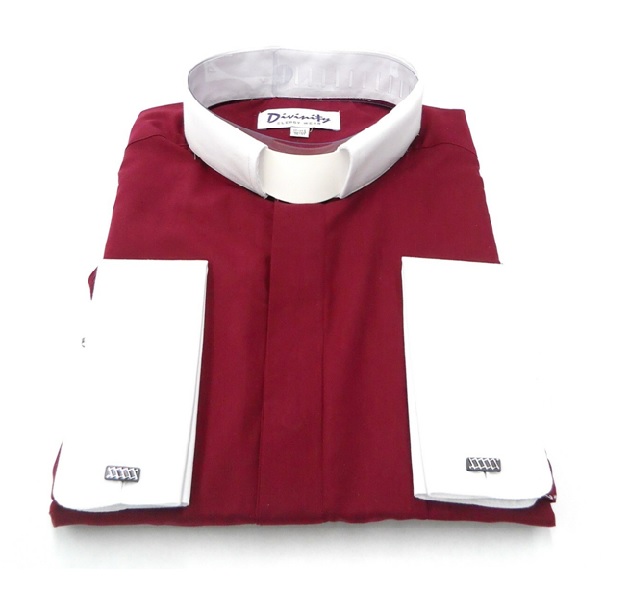 For a more comprehensive evaluation of the importance behind the color of clergy shirts, please consult our past blogs "What Do Different Colored Clergy Shirts Mean," and "Color Symbolism in Choir Robes, Clergy Robes, and Other Vestments."
Why Do Clerics Wear White Collars with Clergy Shirts?
The clerical collar is one of the most distinguishing features of clergy shirts for women and men. The clerical collar, also known as the clergy collar, priest's collar, Roman collar, or even dog collar, is the calling card of the ordained person. It signifies their office and makes them easy to recognize, regardless of faith or denomination.
Since the 6th century, members of the clergy have been wearing priest's collars as a symbol of their devotion and service to the church, though today each denomination may have special rules for who can wear one and when.
Some clerics may also choose to wear the clerical collar as a personal reminder of their servitude to God since it symbolically represents a form of servility.
 
What Are the Different Types of Clerical Collars?
Historically, there have been two types of clerical collars: banded collars and tab collars. The banded collar encircles the neck and shows about the shirt, whereas the tab collar only shows at the front of the open collar in the form of a white rectangle.
Modern clergy shirts sometimes use special forms of clerical collars known as removable or detachable collars, that are not integral to the shirt and can be removed for easy cleaning.
Our Clergy Shirts for Women
Here at Divinity Clergy Wear, we carry a wide range of clergy shirts, including both banded and tab collared clergy shirts for women.
Both styles of clergy shirts for women are made of a comfortable, easy-to-care-for 65-35 blend of polyester and cotton. They feature a full cut, button-down design and come with convertible sleeve cuffs.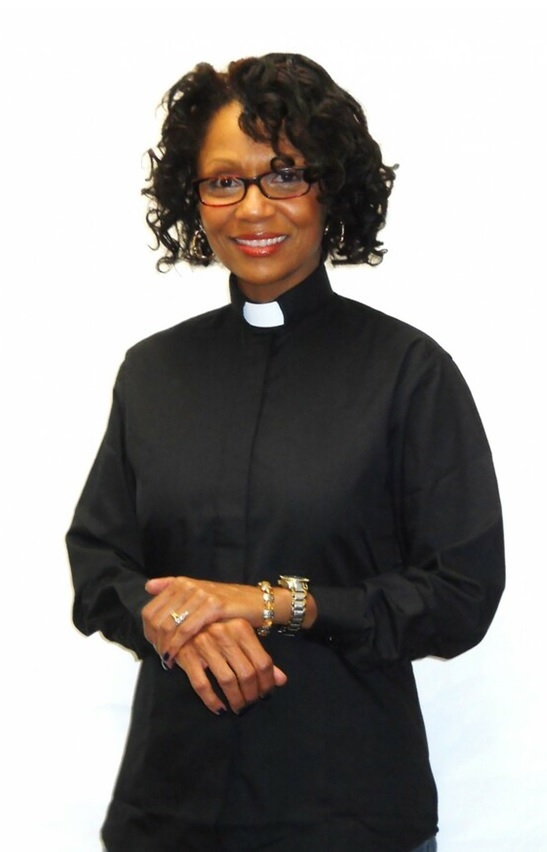 Looking for a Wide Range of Clergy Shirts?
In addition to our dedicated collection of clergy shirts for women, we also carry an impressively wide range of colorful, long-sleeve, and short-sleeve clergy shirts for men. Our online catalog contains brightly colored and ornately embroidered clergy shirts in a wide range of styles, suitable for any taste and any time in the liturgical calendar.
Take a look through our catalog and get in touch with us at 877-453-3535 if you have any questions about our clergy shirts and we would be glad to help.
In addition to our different collar styles in men's and women's clergy shirts, we also carry a diverse selection of other clergy attire and accessories. Check them out on our website or come visit us at our showroom in Hamilton, New Jersey.