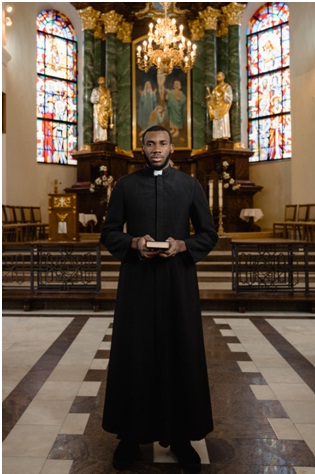 There are various types of garments that people of the clergy need in their wardrobe to effectively cater to their flock. They require clergy shirts for many occasions, including but certainly not limited to church mass and everyday attire, but they also require more professional and elegant items as well. One such item is pulpit robes. These are worn during special occasions, typically on holidays, baptisms, and other such events.
It's imperative to all clergymen and clergywomen that they have comfortable, well-made, and discerning pulpit robes. Therefore, purchasing the best of these robes is an important step to take. Divinity Clergy Wear is just the place for those to go when looking for robes and other clergy attire. All of our garments are high-quality, stunning, and of excellent pricing. We only offer our customers with clerical clothing items made with the finest and most exquisite of fabrics. They all come in a wide range of sizes and colors in order to best meet your needs, preferences, and style. We aim to best serve those who best serve our churches so they can continue to preach the Good Word in comfort and style.
We have several options for you to choose from, depending on if you are a man or a woman. Let's have a look at our best Wesley pulpit robes for both clergymen and clergywomen.
1.Wesley Pulpit Robe in Black
This is a classic robe set that offers elegance and class in one package. There are no added colors except for the gold trim of the front panels of the robe. The overall lack of color supplies a semblance of humility. It's symbolic of the wearer's dedication to the church and to God. When wearing an all black outfit, including an all black pulpit robe, the clergyman or clergywoman is simply trying to not outshine others and stay closer to their mission of service.
Our full-cut black robes are available for both men and women of the clergy. Each set, regardless of if it's for men or ladies, comes with several important features. They are all made of damascene material with black velvet panels trimmed in gold. There is a right pocket slit for convenience and the sleeves are lined and belled along with deep cuffs. The set also comes with old gold metallic flared crosses.
This robe set is perfect for those looking for a simple design to take away from the fashion aspect of the clothing and focus more on what you do while wearing it: praise God.
2.Wesley Pulpit Robe in Purple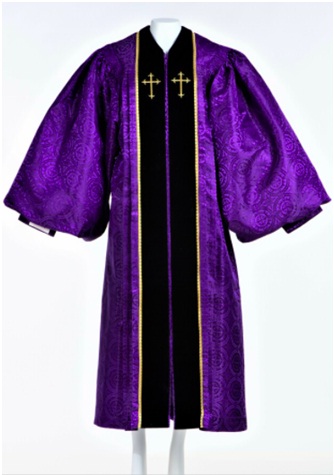 If you are looking for a robe that offers a bit of fun yet holy flair, then this particular pulpit robe is the best option for you. Most of this robe is a decadent and vibrant purple with a gorgeous design on every inch of its fabric. Its panels are black velvet with a metallic gold trim and offer two stunning old gold metallic crosses on the upper chest.
This full-length robe is mostly similar to the aforementioned black robe in that it has many of the same features, but it's unique and highly desirable in its stunning purple color. This color and overall robe is ideal for those preachers who want to draw in and keep the attention of his or her parishioners while preaching the Good Word.
3.Wesley Pulpit Robe in White
When finally choosing to follow your calling for servicing the Lord and his children, you were made aware that you'd have to wear clothes that covered most of your physical appearance. While preaching in the church or even in daily life, those who are preachers or have other church titles need to wear appropriate clothing so as to not take away from their message. However, some of these clothing items can be a bit bland or fashionless. With this white pulpit robe, however, you'll have the perfect middle ground between style and grace.
This full-length robe is a clean white throughout, making its wearer shine with brilliance and holiness. Throughout this robe, there is a stunning and captivating motif, further propelling its beauty. The zipper enclosure makes for easy on-and-off as well, making this robe not only comfortable and eye-catching, but also practical. The front panels are trimmed in old gold, and also have old gold metallic crosses on the upper chest. There is even a small v-neck, which allows for your clerical collar to show through.
This robe is ideal for both clergymen and clergywomen. They are high-quality, like all of our offerings, and are worn and approved by preachers worldwide.
4.Wesley Pulpit Robe in Black and Red
If those latter two robes were too much in terms of style, but the first wasn't quite enough, then this is the perfect in between for you. The entire robe is made with the finest black fabric, which is adorned with an exquisite design. This robe is ideal if you are looking for the classic Catholic priest look. The panels are black as well, but are trimmed in red, offering a hint of color and fashion. Just like our previously mentioned options, this robe comes with old gold crosses on the panels and a zipper enclosure.
This robe is perfect for those male or female preachers who are looking for the perfect robe to focus heavily on your service while also adding the tiniest drop of color.
No matter which of our Wesley pulpit robes you choose, you nor your followers will be disappointed. All of our robes cost $299.95, whether you are a clergyman or woman, which is an excellent price for an excellent robe. You can be rest assured that once you purchase any one of these robes, you are in for years of preaching in style, grace, and comfort. Whatever your clerical clothing needs may be, we have you covered. Feel free to send us an email at help@divinityclergywear.com so we can best help you get the clerical garment you're searching for!