Are you ready to embark on a stylish journey that goes beyond the traditional image of bishops? Today, we're diving into the intriguing world of bishop attire, where classic elegance meets contemporary fashion.
Prepare to be surprised as we peel back the layers of traditional bishop garments and discover the personal style of today's religious leaders.
Join me on this fashionable exploration as we uncover the wardrobe choices that make bishops true fashion icons.
The Splendid Ladies 33-Button Roman Cassock & Cincture Set in Purple
Indulge in the fashionable realm of ecclesiastical elegance with the Ladies 33-Button Roman Cassock & Cincture Set in Purple. This divine ensemble is tailor-made for the trendy lady bishop who desires a flawless and refined presence.
Brace yourself for a breathtaking experience as you slide into this magnificent cassock, adorned with intricate details that transform it into a masterpiece. Its captivating fringe adds a dash of allure, highlighting your grace and charm with utmost finesse.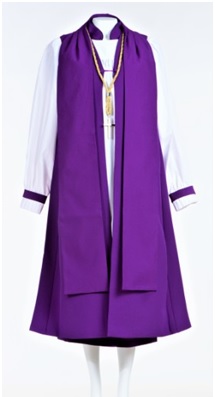 The coordinating cincture belt not only accentuates your silhouette but also symbolizes unity and devotion. With its cleverly designed triple pleat back and side opening for effortless access, this cassock robe embodies both comfort and convenience.
Prepare to turn heads and make an unforgettable impression with the Ladies 33-Button Roman Cassock & Cincture Set, where elegance and functionality harmoniously converge.
Immerse yourself in the captivating world of ecclesiastical fashion and embrace the influence of a cohesive look that flawlessly reflects your unrivaled style.
The Allure of the Ladies Bishop Vestment in Purple
Now, let's turn our attention to the captivating Ladies Bishop Vestment in regal Purple.
This celestial ensemble is fit for a divine fashionista, offering not just one, but eight magnificent pieces that will leave you feeling like the epitome of grace and style.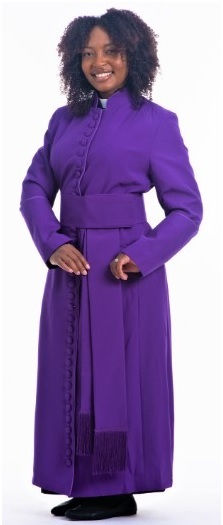 At its core lies the exquisite Roman Style Robe, a meticulously crafted garment that drapes elegantly, embracing you with timeless charm. It's the epitome of perfection.
But wait, there's more! The Ladies Bishop Vestment ensures you're adorned with the perfect accessories to create an ethereal look.
The matching Cincture Belt cinches your waist with a graceful embrace, adding a touch of harmony.
For an extra layer of celestial beauty, embrace the tradition with the Poly-Cotton Fluted Rochet. It complements the robe flawlessly, enhancing your regal appearance.
And that's not all! The ensemble includes matching Sleeve Cuffs, bringing an extra touch of refinement to your attire.
Plus, the Traditional Chimere drapes elegantly over your shoulders, symbolizing ecclesiastical heritage and showcasing your spiritual authority.
Let's not forget the matching Tippet, a stylish accessory that adds an air of authority to your ensemble. With the shimmering Gold Cross adorning your chest, you'll radiate spiritual splendor that mesmerizes all who see you.
And last but certainly not least, the Ladies' Bishop Vestment includes a sacred Cord, symbolizing unity and devotion. It ties everything together, reminding you of the sacred bonds that connect us all.
Indulge in the splendor of the Ladies Bishop Vestment in Purple, where tradition meets divine fusion. Each piece is meticulously crafted to ensure your presence is felt and leaves a lasting impression on all those around you.
Bishop attire has reached new heights of fashion-forward elegance!
Embracing Personal Style: A Reflection of Identity
Beyond the cassock and vestments, today's bishops have embraced the idea of personal style as a reflection of their unique identity.
Fashion is no longer confined to the secular world—it has found its place within the clergy, allowing bishops to express their individuality while maintaining reverence and respect for their religious roles.
Modern bishops understand that their attire speaks volumes about who they are and what they represent. They appreciate the significance of blending tradition with contemporary fashion sensibilities, showcasing a harmonious balance between the sacred and the stylish.
The Power of Accessories
Accessories play a vital role in completing a bishop's ensemble, adding that extra touch of sophistication and individuality. For instance, the choice of a pectoral cross is not only a fashion statement but also a symbol of faith and authority.
The selection of rings, miters, and croziers also showcases the bishop's personal style and adds to the overall visual impact.
Expressing Faith and Fashion with Modern Bishop Attire
As fashion continues to evolve, so does the way bishops express their faith through their attire.
Today, it's not uncommon to see bishops donning contemporary designs that incorporate traditional symbols and motifs.
These designs beautifully merge the worlds of faith and fashion, enabling bishops to connect with younger generations and spark conversations about their beliefs.
The personal style of modern bishops has transcended the boundaries of traditional bishop attire. Today's religious leaders embrace their individuality, creating a captivating fusion of tradition and contemporary fashion sensibilities.
From bold accessories to tailored elegance, bishops are making a sartorial statement that reflects their unique personalities and spiritual authority.
By exploring options like the Ladies 33-Button Roman Cassock & Cincture Set and the Ladies Bishop Vestment in Purple, bishops can embrace their unparalleled style and showcase their fashion-forward sensibilities.
These stunning ensembles, available here at DivinityClergyWear.com, are meticulously crafted to ensure both comfort and style.
So, let your personal style shine through! Embrace the world of ecclesiastical fashion and make a lasting impression as a true fashion icon in the realm of spirituality with bishop attire.