When you're shopping for clergy robes for men, you're going to be looking for clergy robes, vestments, and accessories that communicate respect, reverence, humility, and adoration for God. The representatives of your clergy are responsible for the delivery of inspiration through scripture and ritual, and as such, you'll want to find a supplier that can set you up with some of the finest clergy robes for men and other accessories that you can find. Here at Divinity Clergywear, we pride ourselves on offering some of the most finely crafted, high-quality garments you'll be able to find to outfit your clergymen throughout the liturgical year. Here's a quick look at some of the offerings with which we can supply you in your search for clergy robes for men.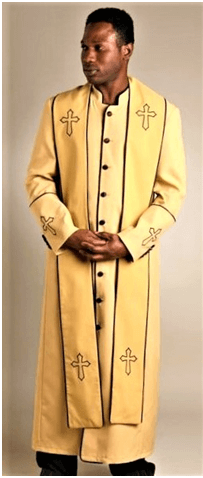 Take a look at our Anglican Clergy Robe with Matching Cincture Belt. This set comes in a modest color that is representative of assistance. This selection comes with an overlapping front with double button-down closure, triple inverted pleats in the back and is lined past the waist, which adds an additional dimension to quality imparted by its high-quality black viva. This selection is available in sizes up to 8XL and can be shipped with an optional garment bag to keep them clean and secure.
Consider also our G.C.P.E. Approved Church Of God In Christ Class A Vestment, which is available up to a size 7XL so you can outfit anyone. It includes a Black Anglican Cassock, a matching black cincture belt, and a white surplice, symbolic of the purity of divine love. The surplice is handsomely adorned with lace accents that not only increase its splendor but call attention to the significance of the divine love it represents. It also includes a black Tippet with the COGIC seal sewn right onto it, along with a 36-inch black cord and a 2x3 Silver Cross.
We also offer clergy robes for men in a variety of other styles and looks that showcase all the gravity and infinity of charity. Consider our Men's Adam Clergy Robe in black and red. It's one of the more attractive and modern options that we offer to give a new, inspired look to the members of your clergy. The modesty of the black is highly contrasted with the vibrant tones of red pleats that shine through the darkness, reminiscent of the light in the darkness that is God's love for the world. Handsomely finished with buttons of the same bright red, this is one selection in a clergy robe that is sure to inspire and uplift.
Take a look at our Men's Asbury Clergy Robe in black and silver. Though it's slightly more modest than the former entry, it's still wonderfully finished, and it's our most popular robe for a reason. It features bold shining cuffs emblazoned with likenesses of the cross and a trimmed collar. The chest is enlivened with an embroidered bible to add extra character and depth to this garment. Inspiring, even imposing, this clergy robe will impress and move any congregation.
One of our brightest and most stunning models is our Men's Trinity Clergy Robe and Stole Set in gold and black. This full-length clergy robe is impressively done in gold with black trim, showcasing dazzling embroidered crosses on the cuffs, across the heart, and on the stole. It's somewhat uncommon, but nonetheless moving, to see robes in such bright colors, and the gold and black play wonderfully together on this garment. A vibrant testament to the beauty of God's love and creation, this is a popular set that will not fail to leave its mark.
These are only a few of the options we offer here at Divinity Clergywear. Browse our site to see our full selection of Clergy Robes for Men. Whether you are looking to get set up with one of the robes outlined here or you're looking for different vestments in black, white, red, purple or more, you'll find them here at Divinity Clergywear. As impressive as these offerings are, we offer you many more one our page. Whether you're looking for something plain and simple or want to express your sense of personal taste, we offer the robes you can use to do so.
Additionally, we here at Divinity Clergywear are partnered with the Church Of God In Christ and believe in the power of giving back to the community. We donate widely and freely to COGIC charities and because we understand the power of generosity. Contact us today if you have questions regarding any of our robes, vestments or accessories. We'll help set you up with the garments you need and can help make it easy for you to find the style you're looking for. We'd love to hear from you, so give us a call at 1-877-453-3535.