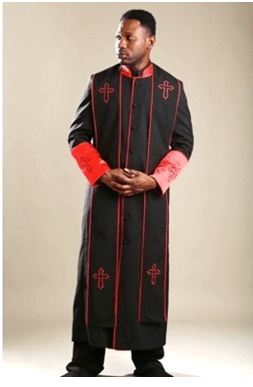 The garment that evolved into what we know today as clergy stoles is an interesting one. No one is particularly certain of its origins, and it has evolved into several different garments throughout history. Today, stoles are worn by academics, clergy members, and laymen as shawls or for decoration.
In ecclesiastical history, the stole more than likely originated from a simple garment carried indiscriminately over the shoulder and used as a utilitarian tool such as a towel or napkin. At its origin, it was unlikely to be significant of rank or sect, and only later became adopted as a vestment tied to rank and office.
As for its origins, one theory is that around 2000 years ago, it became a common fashion to wear a strip of cloth or silk known as a sudarium around the neck or over the shoulders, commonly embroidered or embellished for effect. Over time, as the practice became more widespread, the garment because known instead as an orarium, and became associated with members of the church. The word orarium itself is a cognate to other words in Latin that mean "mouth," and it would be reasonable to make the assumption that they were so-called because they were associated with speakers, whether lay or liturgical.
By the end of the fourth century AD, clergy stoles, still known by the title of 'orarium' or 'oraria' had become fairly widespread in the Eastern Church. The Western Church adopted the garment sometime around 600 or 700 AD. By 1000 AD, the garment had become known as a 'Stola' Latin and Greek for 'robe,' 'garment,' or generally 'equipment,' depending on the context. It had also become more elaborate, featuring embroidery, needlework, and color, much in the fashion of the clergy stoles of the present. Today, clergy stoles can be used to signify rank and to mark ministers in the service or sacrament they are to render.
The case can be made that at present the inclusion of stole as part of an array of liturgical vestments is not universal. There is no standard and each sect has its own traditions and customs regarding the appropriation of clergy stoles, who should wear them, how they should be worn and when. Regardless, we here at Divinity Clergywear are proud to offer clergy stoles in a wide range of colors and fashions - and as a part of sets - so that you can set your clergy members up to fit the service and the time of year perfectly. Here are some of our top selections.
Clergy Stole with 4 Embroidered Crosses in White on White
There is hardly a more classic option in a clergy stole that this particular offering. Stoles are commonly embroidered with crosses as common ornamentation and to add some character to the vestment, and this stole is no exception. In addition, we consider this one of our most versatile offerings in a clergy stole. That's for the simple fact that it can be paired with white robes or black robes to present a simple and unaccented look, or it can be paired with brighter garments to better suit the time in the liturgical year or the matter of the oration being delivered. Overall, if you need stoles to decorate your ministers, this is an excellent option both for reserved and eccentric demeanor.
Clergy Stole with 4 Embroidered Crosses in Black & Red
This is the same basic model as the previous example of a stole, except this format is presented much more brightly in red on black and presents a similar degree of versatility. Ideally suited to darker robes for more austere presentation, this particular stole will match red robes with equal efficacy. In such a way it can make quite a match for an all-black presentation or can match itself to brighter robes in a range of colors.
Clergy Stole with 4 Embroidered Crosses in Black & Royal
Again this is a representation of the same basic model of clergy stole that we have examined so far but this example is in black and royal purple. Purple is a color that has been associated with clerical affairs nearly into prehistory. Royal purple saw widespread use among the upper classes of Phoenicians and as such has been associated with status. In the common day, it is a color commonly associated with the bishops of the Anglican church. Regardless of intent, purple is a great color to add as an accent to your vestments and can make quite a match for many different styles.
Even if you're looking for something a little different in your clergy stoles, you'll find something for any season or occasion right here on our site. Take a look through our stoles and if you have any questions reach out to our team at 877-453-3535. We'll be glad to help you figure out the right look and poise you want to reach.