For a minister, ordination is a significant milestone in their journey of faith and service. It is a recognition of their calling and dedication to God's work, and a formal commissioning to fulfill the duties of a spiritual leader.
The act of ordination involves the laying on of hands by other ministers, affirming the newly ordained minister's role in the church and community.
The ordination process is an opportunity for reflection and discernment, as the minister deepens their understanding of their faith and ministry. It requires a commitment to lifelong learning, growth, and service, as the minister seeks to fulfill their role as a shepherd and guide for their congregation.
Ordination is also an affirmation of the community's trust and support in the minister's leadership. It signals a willingness to work together, to build relationships of mutual respect and accountability, and to serve together in the ministry.
This is why a clergy stole, as a symbol of this milestone and commitment, is a thoughtful and meaningful gift for a newly ordained minister or a minister celebrating a special occasion in their ministry.
Clergy stoles, after all, are more than just a piece of fabric worn around the neck. They are a symbol of faith, devotion, and service to the church.
Whether it's for an ordination or a special occasion, a clergy stole is a thoughtful and meaningful gift that will be treasured for years to come.
In this blog post, we'll take a closer look at clergy stoles and why they make the perfect gift.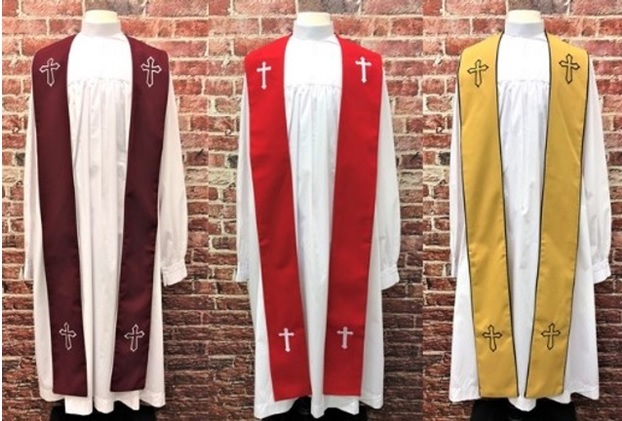 What are Clergy Stoles?
Clergy stoles are long, narrow pieces of fabric that are worn over the shoulders and draped around the neck. They come in a variety of colors, each with its own significance. For example, a purple stole is often worn during Advent or Lent, while a white stole is worn during Christmas or Easter.
The Meaning Behind Clergy Stoles
Clergy stoles have a deep meaning and significance within the church. They symbolize the authority and responsibility of the ordained minister and the commitment to serve the church and its congregation. The stole is also a visual reminder of the sacraments and the spiritual journey of the wearer.
Choosing the Right Clergy Stole
When choosing a clergy stole, it's important to consider the occasion and the individual who will be wearing it. The right clergy stole can make a significant impact on the recipient in many ways.
Firstly, a personalized stole shows the recipient that they are valued and that the person giving the gift has put thought and care into their choice.
For example, a stole with the recipient's name or church name embroidered on it can create a sense of ownership and pride in their ministry. This can be especially meaningful for individuals who are just starting out in their ministry or who are being ordained.
Additionally, selecting a stole in a color that holds significance for the recipient can make it even more meaningful. Usually, the different colors symbolize the different seasons within the Liturgical calendar.
If there's a particular season that holds value and importance in the recipient's life, spiritual journey, and path, then choosing a color that reflects that season can make the stole even more meaningful and help them feel connected to their faith and ministry.
The right stole can also have a practical impact on the recipient. A stole that is comfortable and easy to wear can help the recipient feel more confident and focused during their ministry duties.
For example, a lightweight stole made of breathable fabric can be a welcome relief during hot summer services, while a stole with pockets can be useful for carrying small items like a prayer book or a pen.
Clergy Stoles for Ordination
Ordination is a significant milestone in a minister's life and career. A personalized stole for the occasion can be a cherished keepsake for years to come. A white stole with gold embroidery can add a regal touch to the occasion, while a red stole can symbolize the Holy Spirit.
Clergy Stoles for Special Occasions
Clergy stoles are also a great gift for special occasions such as weddings, baptisms, and confirmations. A stole in the recipient's favorite color can add a personal touch to the gift. Additionally, a stole with a simple and elegant design can be versatile and worn for various occasions.
Make An Ordination More Impactful with the Perfect Clergy Stole
In conclusion, clergy stoles are not just a piece of fabric but an important part of a minister's wardrobe, representing their religious affiliation and the occasion they are leading.
A well-chosen stole can make a lasting impression on the recipient and convey a sense of appreciation and respect. Whether it's for an ordination, a special occasion or a daily wear, choosing the right stole can make all the difference.
Divinity Clergy Wear offers a wide variety of high-quality, beautifully crafted clergy stoles that can be customized to meet the specific needs of the wearer.
From colors and fabrics to personalized designs, we have everything to ensure that your stole not only looks great but also holds special significance. So why not visit our website and browse through our collection? You might just find the perfect stole for your brother or sister in Christ, or for yourself.