Clothes worn only by members of the clergy are referred to as clerical clothes. In contrast to vestments, clerical clothing is worn as a symbol of a person's devotion to the church and not only during services.
Wearing clerical garb serves as a visual and verbal reminder to oneself and others of one's vocation and proximity to Jesus Christ. One's social and psychological well-being is greatly enhanced when one encounters a member of the Church.
Dressing Women in the Clergy
In some traditions, the attire worn by male and female members of the clergy can differ significantly. While some religious orders may have strict rules regarding female attire, teaching God's charity and love to individuals is a job for everyone to perform. That is one place where clergy shirts for women can come into play.
In the Catholic and Orthodox traditions, only males are permitted to wear the black shirt and white clerical collar, which is one of the most sacred garments for clergymembers. One may easily identify a cleric even from a distance of one mile.
As far as other Christian denominations go, women are allowed to serve as ministers and parish leaders, but what do they wear to do so? Because there are not many choices available, the vast majority of female clergy members continue to wear the traditional clerical collar, black pants, and black shirt.
Clergy Shirts For Women
The vast majority of religious groups that do use clergy attire choose to have their female clergy members wear tab collar clergy shirts. This collar has a tab insert in the front instead of a neckband collar.
The traditional garb used by clergymen may be given a more feminine air with the help of our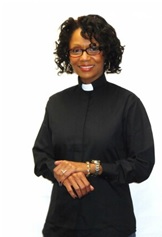 Clergy Shirts for Women. For those who don't have the time or want to wear a full-length robe, vestment, or cassock, a clergy shirt is an excellent option.
Providing women of the clergy with greater clothing options is an important part of Divinity Clergy Wear's mission to empower them and convey the good message of their professions.
Even while it's easy to write off clothes as a trivial matter, their significance goes well beyond what can be seen at a glance. Taking time to recognize and honor clergywomen is an important part of this effort. As a company, we strive to make our clients aware of how much we value the contributions of women in ministry.
Our Clergy Shirts for Women are tailored specifically to fit the body of a woman serving in the clergy. While some manufacturers may attempt to pass off a women's shirt as a men's, our designs are completely geared toward female wearers. Our poly/cotton mix women's clergy shirts with tab collars are available in short or long sleeve variations for your convenience.
Ladies Clergy Dresses
It's intriguing to see how religion, culture, and clothing interact. Taboo norms, conventions, and rituals govern how humans communicate with each other when they are face-to-face, and they may be determined by how they dress.
Clothing has a significant role as a sign of religious affiliation for many different religious groups. Generally, though, the control over one's outward appearance extends much beyond what one wears. In this context, "dress" refers to anything from clothes and hygiene to jewelry and body ornamentation.
Dresses designed specifically for women who serve in the clergy are an excellent choice for enhancing any clergy wardrobe. Comfort, functionality, and style are all top priorities when designing our clergy attire for women. Dresses with neckbands and tab collars are versatile enough to be worn in a variety of settings, including the mission field and churches.
Throughout the ages, God's prophets have often urged His people to dress modestly. Invite the presence of the Holy Spirit into your life by being well-groomed and dressed impeccably. Dressing and grooming may have a significant impact on how you and others interact.
Some of the clergy, particularly those who are supposed to look the part, have difficulty deciding what to wear. In churches where cassocks are required, Sundays may not be a problem, but what about weekdays? When it comes to clerical attire, ministers may be required to wear collars to represent their position, but they may not be the most fashionable.
Clothing is a powerful tool for empowering individuals. Clerical attire reflects who you are, thus it's crucial to feel at ease, well-dressed, and self-assured in your attire. For us at Divinity Clergy Wear, we believe that our Clergy Shirts for Women may help clergy members feel confident enough to approach individuals on a deeper level.