As a man of the cloth, the way you present yourself holds great significance. Your attire not only reflects your personal style but also carries deep symbolic meaning.
The choice of a clergy shirt is a powerful statement that enhances your presence and impact in religious leadership.
In this blog, we will delve into the importance of clergy shirts for men and the significance of impeccable tailoring.
Along the way, we will showcase some of the exquisite and popular clergy shirts for men from Divinity Clergy Wear, allowing you to discover the perfect garment to inspire confidence and grace in your role.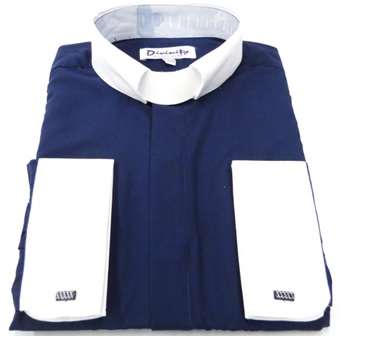 The Symbolism of Impeccable Tailoring for Graceful Presence
The way a garment is tailored can greatly impact its overall aesthetic appeal and the impression it creates. When it comes to clergy shirts for men, impeccable tailoring is of utmost importance.
At Divinity Clergy Wear, we understand the significance of a well-fitted shirt that allows you to move with ease and grace. Our clergy shirts for men are crafted with meticulous attention to detail, ensuring the perfect balance of comfort and style.
Popular Clergy Shirts for Men from Divinity Clergy Wear
Hidden Button Two-Tone Tab Collar Clergy Shirt in Navy
The Hidden Button Two-Tone Tab Collar Clergy Shirt in navy is a true embodiment of elegance and sophistication. With its uniquely designed tab collar, this shirt adds a touch of distinction to your ensemble.
The hidden button fastening provides a seamless and refined look, befitting the utmost reverence of the clergy. Its French cuff sleeves and full cut guarantee comfort and freedom of movement, enabling you to carry out your duties with grace and ease.
Hidden Button Two-Tone Collar Clergy Shirt in Burgundy
For those seeking a regal and commanding presence, the Hidden Button Two-Tone Collar Clergy Shirt in Burgundy is a perfect choice. Its resplendent shade of burgundy demands attention and showcases impeccable craftsmanship.
This shirt, too, features French cuff sleeves and a full cut for optimal comfort and style.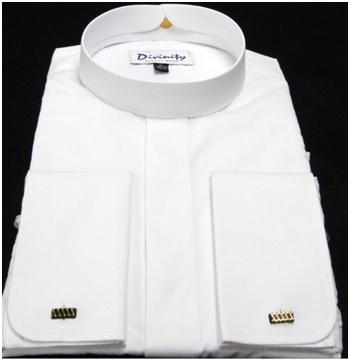 Banded Collar French Cuff Clergy Shirt in White
Our Banded Collar French Cuff Clergy Shirt in White exemplifies style, comfort, and quality. Crafted from a premium poly-cotton blend, this shirt strikes the perfect balance between durability and breathability.
Whether you're delivering sermons, officiating ceremonies, or engaging in pastoral duties, this shirt will be your steadfast companion.
Banded Collar Formal Clergy Shirt in Black
The Banded Collar Formal Clergy Shirt in Black is the epitome of refined elegance and timeless style. This exquisitely crafted shirt is designed to meet the needs of clergymen who seek both sophistication and comfort in their formal attire.
Its multi-pleat front adds a touch of understated luxury and provides a graceful drape, creating an aura of dignity and poise. With precise craftsmanship and attention to detail evident in every fold, this shirt maintains its flawless appearance throughout the most rigorous of ceremonies.
Clergy Shirts for Men at Divinity Clergy Wear are carefully curated to ensure they embody the qualities necessary for religious leadership. Our range of shirts combines symbolism, exceptional tailoring, and a commitment to quality, providing clergy members with garments that empower and inspire.
The Impact of Clergy Shirts on Men
The choice of attire for male clergy extends beyond personal style. Clergy shirts have a profound impact on how individuals perceive and interact with religious leaders. Here are some key aspects to consider:
Authority: The right attire helps project a commanding presence, instilling a sense of authority in those who look to you for guidance. A well-chosen clergy shirt exudes confidence and fosters trust and respect.
Professionalism: Clergy shirts signal professionalism and dedication to one's vocation. By dressing appropriately, clergy members demonstrate their commitment to their religious duties and the community they serve.
Visibility: Wearing distinct and well-designed clergy shirts enhances visibility and recognition within the congregation. It allows individuals to easily identify religious leaders and approach them for support, guidance, or spiritual counsel.
Unity: Uniformity in attire fosters a sense of unity and cohesion among clergy members. When clergy shirts are chosen thoughtfully, they create a cohesive visual identity that reinforces the collective purpose and mission of the religious institution.
Clergy Shirts For Men: A Reflection of Personal Style
While clergy shirts adhere to certain standards and symbolic meanings, they also offer the opportunity for personal expression. Each individual possesses their own unique style and preferences.
By carefully selecting from the diverse range of clergy shirts available, you can align your personal taste with the sacred responsibilities you carry.
At Divinity Clergy Wear, we recognize the importance of individual expression while upholding the traditions and symbolism associated with clergy attire.
Our extensive collection offers a variety of colors, styles, and designs, allowing you to find the perfect clergy shirt that reflects your personality and enhances your presence as a religious leader.
In the realm of religious leadership, the power of attire should not be underestimated.
At Divinity Clergy Wear, we understand the unique needs of clergymen and offer a range of exquisite and meticulously crafted clergy shirts.
From the symbolism behind different colors to the impeccable tailoring, our shirts empower men in religious leadership to carry out their duties with confidence, style, and grace.