If a priest is "on" or "off" duty, he or she should dress conservatively and properly. While certain religious organizations require their members to wear standards, they are not obligated to follow a dress code. The Roman collar and black priest shirts are ubiquitous in parishes across the globe, although they aren't always obligatory. If a priest serves a religious community, he may never wear a robe, or he may only wear one on certain occasions.
It is common for priests to dress in black and wear a Roman collar at work and a separate set of clothing while they are away from their parish or office as a manner of expressing to the townsfolks that they are taking a day off. On their days off, some priests like to wear the Roman collar, while others don't. If you're in a religious community, you'll want to make sure your priests are dressed respectfully and in accordance with the culture and communities they represent.
Dressing the part is an essential component of taking on any job. Of course, if you're going to be addressing a large group of people, you're going to want to dress appropriately for the occasion. Divinity Clergy Wear, a specialty shop for clergymen, has a wide range of colors, styles, and sizes to meet the demands of clergy members from various faiths and the roles they occupy in their separate churches, all at reasonable prices.
This means that even the most basic of items, such as priest shirts, need to be customizable. You don't have to worry about finding the correct priest shirts if you know where and how to search and what to avoid.
How to Dress Like a Clergyman
Be at ease, since no matter how obscure your search may be, you will undoubtedly find what you are looking for here. You can not only find a variety of various liturgical fabrics from us, but we also offer more priest shirts and clerical clothes in more designs than our rivals - as well as distinctive accessories to complete your look. There can be no doubt about it when the name Divinity Clergy Wear is used.
"The Shirt"
A preaching shirt, sometimes known as a clergy shirt, may occasionally be substituted for the genuine shirt, but there are situations when nothing but the actual shirt will suffice. For example, when you don't have another garment over the rabat shirt, the illusion is damaged beyond repair.
In our selection of clergy shirts for men and women, we offer a variety of bright and colorful options to fit any preference and occasion, as well as every service or period of the liturgical calendar. Shirts come in a range of patterns, including some that are elaborately decorated and intricately embellished or quilted, in addition to the many bright colors that we have available for purchase in our store.
Depending on your requirements, you can find a variety of clergy shirts with tab collars and banded collars in our selection.
Exceptional Specifics
Some members of the clergy choose to dress in a straightforward manner, while others are more open to wearing a variety of styles in their clerical attire. Some preachers aren't against a little bit of additional embellishment once in a while to make their professional clothes more appealing to the eye on a daily basis. Our clergy shirts are available in a variety of styles and colors, including plain and solid hues, as well as smart designs.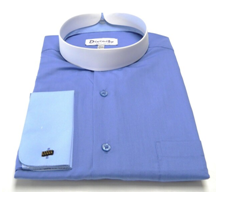 You can find many possibilities while browsing for clerical shirts at Divinity Clergy Wear if this is the kind of look you are looking for. Some include multi-pleat front or two-tone French-cuff clergy shirts. Whether you are providing service for big events or just on a regular day, you may make the area even more attractive by wearing more elegant shirts and clothing appropriate for the role you hold.
Effortless Concepts
Let's start with something straightforward, and I mean that in the most literal sense. There are those of us who need to obtain clergy shirts in very basic designs that are not too spectacular or bring attention to themselves. After all, modesty is regarded to be a virtue. Others wear shirts like these to support their principles, and we should not judge them for doing so.
On the contrary, we can still discover a plethora of possibilities for clerical shirts that are both simple in design and well-fitted. You may choose from our collection of traditional roman rabat styles or alternate between banded collars and tab collars, according to your own preference. You can stick to your guns after you've identified some solid elements that work for you, and you can continue to devote your time and energy to the other aspects of your profession that are more essential to you.
Last but not least, we encourage you to come and see us in our Hamilton, New Jersey showroom. There, you can get a better sense of some of the apparel and clerical shirts that we offer. Even if you can't make it to our shop, you may always contact us by phone at 977-453-3535 if you have any questions about these fascinating clerical shirt designs. We'll be happy to help!