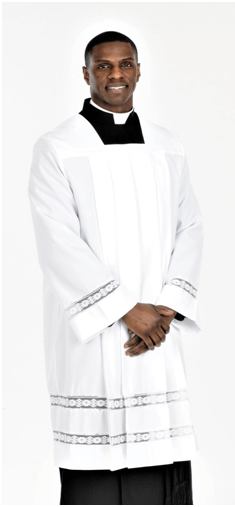 It can be very demanding to effectively categorize and orchestrate what is essentially a wardrobe for the clergy members of your organization. You'll have to take into account any consideration you might want to make for the happenings in the liturgical calendar. You might even want to take into account anything that happens to be going on in the greater community. Rank and office of the clergymen or women to be outfitted can be just as significant of a consideration. Even after weighing all of these factors, you'll need to budget for style and tradition.
Tradition can be prescriptive, to be sure. When you lean on tradition to outfit the members of your clergy, all you need to do is to fit the vestments to the occasion. In such a setting there can be little more effective than suiting your clergymen in simple black robes to impress the weight of their authority on a congregation. In similar but slightly removed circumstances you might be swayed to apparel one delivering oratory in purple robes, due to their affiliation with certain offices in given sects. The fact is that you can easily go with a traditional look for your clergymen and women that will impress and inspire a congregation, and selecting the vestments would be no mean feat.
There are other times when you might want to capitalize on some rare grain of levity to sway your congregation with a somewhat altered sense of style. The fact may be that you have recognized the import that a spirited soul can have on a willing congregation and would like to draw from that font of divine inspiration rather than blanket it with the nearest practical solution.
There are occasions wherein the natural light and personality of a preacher, pastor, minister or other member of the church is as powerful as the oratory itself. There are times when the weight of words is a function of the person delivering them. In those situations, it can be rather valuable to accent, rather than gloss over, the character of the person delivering the sermon.
We here at Divinity Clergy Wear are poised to present you with some particularly good news. As we are providers of one of the largest collections of vestments on the web, we are particularly well situated to offer you just about any vestment - in any style - that you could want. Whether you need a single surplice or a tippet or a set of robes, we can set you up in style or more simply, as the case may be.
In addition to supplying you with the vestments necessary to complete a look for a given occasion or sermon, we offer a range of vestments that you might use for the most proper or personal of clerical settings.
If you need to present your clergymen with the stark secular black in which they have been and still are frequently attired, look no further than Divinity Clergy Wear. We offer cassocks and cinctures, full robes and other vestments in simple black and white (and other colors) with minimal ornamentation to present the austere style that was so often the purview of a priest.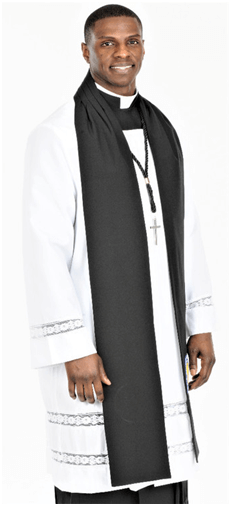 We're just as ready to set you up with clerical wear and vestments that will bring extra color and character to a congregation, however. Whereas in some situations you might want to employ black and white robes for the most formal effects, whenever you want to shed some divine light on a setting we can offer that uplifting element as well.
Not only do we offer the vestments that we already mentioned as the cornerstone of austerity before, but we offer robes and preaching jackets in a rainbow of colors right here on our site. Many of them are not only beautifully colored, but wonderfully embroidered and accented as well with visual decoration. In addition to our colorful robes and vestments, we offer preaching dresses for ladies as well as church suits for men. If you have come in need of a surplice or choir robes, a cross on a cord, tippets, stoles or other hard to find vestments, Divinity Clergy Wear has you covered.
Robes for Men
If you've come in search of clergy robes for men you're in just the right place. As we have demonstrated, we are uniquely poised to offer you a catalog of clergy robes for men for just about any occasion.
Consider, as a traditional staple, our Class A Vestment which includes six pieces and is an ideally suited traditional vestment. It artfully incorporates the colors of black and white into one package, both of which are charged with significance in the church, and while this piece is elegantly designed, we might still say that it possesses certain reserve and poise.
This set of vestments comes with a black cassock and cincture that serve as the foundation of the overall ensemble, though they can be somewhat overshadowed by the surplice - but more on that shortly. The cassock and cincture are somewhat unembellished but come in the traditional black in which many vestments have been produced throughout history. It has been said that priests have historically worn black to signify that they are enjoined with secular duties on top of their clerical duties and to remind them of their humble earthly status. This piece is humble while still offering an elegant spirit of poise.
Overlaying the black cassock and cincture is a white surplice with beautiful traditional lace. A surplice like this was traditionally done in white to connote the purity of divine love, and this piece sure does a job of conveying that. Completing the ensemble is a black tippet, a black cord, and a silver cross. It's the ideal interplay of elements that brings about power through simplicity.
But this is one of our most demure options in preaching robes for men. As we mentioned we offer plenty of selections for bringing about and highlighting the natural light of a clergyman, and here on our pages, you will find plenty of options for executing such an effect.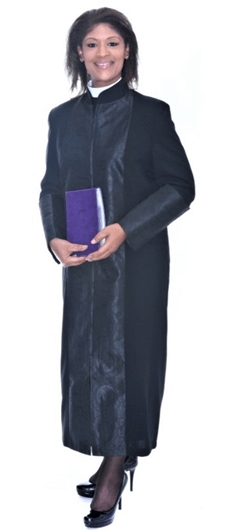 Take a look at our Men's Adam Clergy Robe in gold and black. This is a wonderful example of the types of vestments we can offer you here at Divinity Clergy Wear to accent rather than hide a grand personality. Even so, this particular offering retains elements of the traditional that go a long way in making it a nearly universal favorite.
This full-length set of robes is built upon a strong foundation of dark colors but is beautifully trimmed in gold. The front is elegantly trimmed and fixed with gold buttons and the cuffs are similarly lavishly decorated. In addition, this set of robes features a luminous gold pleating along its back which only serves to add another layer of complexity and color.
If that particular offering does not suit your tastes, consider one of our many other offerings here at Divinity Clergy Wear, many of which are even better suited to bringing out some natural color and voice. The Adam Clergy Robe comes in a number of other color patterns, but you can also find other amazing choices in clergy robes for men on our site such as our Trinity, Cain, Joseph, Asbury and other options.
Robes and Dresses for Women
In addition to our many wonderful selections in clergy robes for men, we are proud to offer a similarly impressive collection of robes and dresses for women clergy right here on our site. If you were impressed by our offerings for the male members of your clergy, only wait until you see what we can offer for the ladies.
If you're looking for something traditional, along the simple styles of some of the robes we showed you for men, consider one of our equally demure offerings for ladies. Consider our Mary Clergy Robe for ladies if you are interested in an offering that is as basic and classic as possible.
Our Mary Clergy Robe for ladies is the perfect choice for a traditional, classic set of clergy robes for women. This set of robes is full length and all black, simple and classic and offers a beautiful brocade pattern along the front. In such a fashion it brings a little flash and personality to even the most basic offering. If you appreciate this style of robes, you might be equally impressed by our Mary Clergy Robe in white, or one of our Gershon Clergy Robes for ladies in black or white.
In addition to our robes for ladies, we also offer preaching dresses in quite an array of cuts and colors. If you are looking for a style that will serve as a novel accentuation in a classically relevant color, check out our Ladies 1 Piece Preaching Dress in Purple. This particular dress comes with a shiny silky finish, is trimmed with rhinestones and has gracefully flowing pleats. It's the ideal match for someone who doesn't want to depart too far from tradition but also wants a little extra color and style.
If you are looking for an option that will allow you to make the most of your preacher's natural light, take a look at an option like our Ladies 3 Piece Designer Preaching Dress with detachable cape, which comes in several colors. We offer a few different configurations and twists on this style, and each of them is an excellent choice for adding some movement and spirit to a setting.
To get a good impression of the kind of luster this particular dress can offer, check out this preaching dress in blue. Blue is frequently associated with royalty and this dress is trimmed in gold, embroidered with crosses and decorated with rhinestones. Full of life and flash and glitter, this is one of our brightest offerings here at Divinity Clergy Wear and is just the ticket for adding some extra liveliness to a sermon.
As we stated previously, we have a full collection of robes and dresses here on our site, and plenty of other offerings in addition to these few dresses we have here explored. Take a look through our collection of clergy robes and dresses for ladies and find just the type of style that appeals to you.
Accessories
Here's some more good news. Divinity Clergy Wear isn't just your choice supplier of robes and dresses for your clergymen and women. We also happen to offer an encyclopedic collection of accessories as well.
If you're looking for a surplice or choir robes, take a look through our catalog. In addition to the surplice that we offer as a part of the Class A Vestment that we investigated above, we also offer a surplice as a standalone vestment. Check out ur surplice with lace, a liturgical vestment that has a storied history and can be found among certain sects filling the office of a choir robe. Ours is crafted from high-quality white viva, with a square neck and straight wide sleeves.
You can also find tippets and stoles on our website in a range of colors. Originally devised as a lay garment and used as an accessory garment like a napkin, the stole later became absorbed into the church and came to demarcate rank. Check out our collection of stoles and tippets in black, purple, blue, white and more.
Give Us A Call
In addition to these robes, dresses and other accessories that we have explored so far, we are proud to offer more than we have highlighted in addition to other accessories such as chimeres, rabats, usher gloves, crosses and cords and more.
In addition to the fact that we have one of the most comprehensive stocks around, we also carry a wide range of sizes to fit any need. We understand that it can be overwhelming shopping through so many different products and configurations, so we invite you to give us a call to help you find just what you need. Give us a call at 877-453-3535 and we'll help you find what you need today.