It might seem like there is an overwhelming amount of information to be gleaned with respect to the origins, history and appropriate vestments that one is liable to see in any given sect of the church. The short answer is that there is an overwhelming amount of information to be gleaned.
The many vestments that are coordinated and paired with each other have evolved over many hundreds of years to take on the forms that we recognize today. Some have confusing names, the origins of others are somewhat shrouded in the mists of antiquity. Some even have secular origins.
What compounds the matter is the fact that there are no hard or fast rules for when each vestment is appropriate for wear or use. Different churches set their own tone and rules for when it is appropriate to wear a given vestment, who can wear it, and even what colors are acceptable.
Here we're going to give you a brief overview of some of the more common vestments that you may approach in worship or in literature along with a little information on their origins and uses. Remember, sometimes prescription changes in accordance with the person delivering it, so if you have any questions you can always call us for more clarity.
Cassock
A cassock is one of the vestments that you are likely to encounter regardless of the church you attend. It is a long robe that typically reaches to the ankles and is typically found in solid colors like black or purple. If anything, black is the most common color in which one will typically find a cassock due to black's association with the clergy. Black is commonly encountered in cassocks because black has been used to serve as a reminder that the duty of the clergy is secular as well as holy.
Cassocks likely originated among scholars and may even have given rise to some of the modern academic robes of today. Cassocks are also commonly encountered with a belt called a cincture. The cincture serves the purpose of securing some of the other liturgical vestments in place (such as the stole, which we will cover shortly) but it also serves the symbolic purpose of representing the fortitude and purity of the person wearing it.
Surplice
A surplice is a plain garment typically made of white linen that is commonly worn over the cassock. It is shorter than the cassock and typically has wide sleeves and a square neck. In contrast to the relatively common custom of wearing a black cassock, the surplice which often appears in white is representative of the purity of divine love, charity. The surplice was originally designed to be a smaller alb, the long white linen garment that is so named in reference to its whiteness - alba means white in Latin.
A surplus may be either plain or decorated or embroidered. It is also fairly common to see the surplice in use as a choir robe. There have been many debates throughout the centuries on the appropriate use of the surplice but today it is not uncommon to see it in conjunction with the cassock and as a robe for choristers.
Similar to the surplice is the rochet, which is a longer white garment with more or less the same features as a surplice. It is also sometimes encountered in use as a choral robe.
Chimere
A chimere is a sleeveless robe that is sometimes traditionally worn over an alb. The chimere may also have its origins alongside the development of academic robes, and like the surplice, it is sometimes worn today as a choral robe. It is also not uncommon to see a chimere paired with, and worn over, a cassock as described above.
Stole
The stole is another garment whose origins are slightly obscure and likely secular. Interestingly, it is also one of the simplest of the liturgical vestments explained herein and takes the form of a band or length of cloth, silk or linen that is most typically worn by a clergyman delivering communion.
It is not entirely clear where the stole originated but one theory is that it was adapted from lay shawls and modified into a napkin that was utilized during the delivery of communion. Over time, stoles became more symbolic than functional and today it is not at all uncommon to see floridly decorated and embroidered stoles as a part of a catalog of vestments.
A tippet is like a stole in appearance, as it generally takes the form of a long strip of cloth that is draped over the shoulders of the person wearing it. The color of tippets sometimes signifies the rank or office of the person wearing it. For example, black tippets are sometimes reserved for ordained clergymen while others involved in delivery or oration wore tippets in other colors. Of course, this changes with time and with location and is not a hard or fast rule.
Of course, on top of these garments are many other forms of preaching robes, jackets, shirts and dresses here at Divinity Clergy Wear. We offer all of these garments and many other vestments for men and women on our site, and this is only an introduction.
Preaching Robes for Men
At Divinity Clergy Wear, we offer the many styles of vestments that we have previously described in addition to many others. As an introduction to our catalog of offerings, consider our 27 Button Roman Cassock and Cincture set that we offer in several colors, including the traditional black.
This is an ideal offering for those who wish to apparel themselves in a traditional format and in colors that are typically associated with reserved settings. This cassock and cincture set are crafted from the highest quality materials available for long service and use.
Before we go any further into some of our offerings, it's important to note that when you are looking for new vestments, the tradition and office of the person for whom they are destined is important, but so is the light you wish to shed on the ceremony.
That means that in addition to making considerations for the ceremony that will be delivered and performed, you may want to take into account who is performing it as well as the audience. There are times when the most reserved garments are fitting not only for the occasion and the setting but for the audience. At the same time, there are occasions when you might want to apparel a member of the clergy in garments befitting the spirit of the season or the topic of the oration being delivered. Consider the following.
Our Class A Vestment includes 6 pieces and is one of our most comprehensive offerings here on our site. It comes with a Black Anglican Cassock and matching cinture in addition to a white surplice, black tippet, cord, and cross. Though it presents a bit more levity than the black Anglican Cassock we presented above, it is still particularly formal and proper. There are times when this is fitting.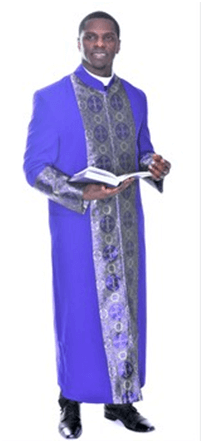 Yet when you need to lift the spirits of the congregation and fill them with the powers of hope and life, there are perhaps better-suited garments to such occasions.
A vestment like our Men's Adam Clergy Robe in Black and Red makes a slightly lighter effect. It is still heavily traditional in cut and style and diverges only slightly from the course of tradition. It is, however, somewhat brighter than the previous selection.
Consider then an option even more spirited and vibrant than this. Look at the same exact set but this time in purple and white, which is also available on our site. Brighter and more inspiring than the former option, it is more fitting for certain services, depending on the time of year. Purple is sometimes reserved for bishops, but if your purpose is to color the sermon with the light of spring, then that aim is admirable.
We can go a step further. Consider one of our more popular robes, our Men's Trinity Clergy Robe and Stole Set in Gold and Black. This is a set of robes to put a proper slant of light on any distinguished clergyman. Beautifully and stunningly arrayed and perfected, this set of robes cannot be outshone in its bright gold finish. It comes with matching embroidered cuffs and a matching embroidered stole as well, with high contrast black crosses on each. When it comes to shedding some light on a situation, this is one of our best offerings to do so.
If you don't need to place such a strong accent on the members of your clergy but are still looking for a little extra light and color, don't miss the opportunity to check out our Men's Joseph Clergy Robe in Purple and Gold. It doesn't have the same full force of character as the previous offering but it certainly has a lot of movement and a lot of bright contrast. Stunningly finished in high-quality purple fabric, it is handsomely embroidered with a sharp gold brocade along the front and a pleat in the back.
Between these options, there is much more to appreciate, but you'll have to see for yourself to do so. If you are looking for traditional or novelly inspired options for the members of your clergy to give them an extra spice of variety, check out our offerings on our pages for men's clergy robes.
Preaching Robes for Ladies
Of course, we complete our catalog with a full collection of preaching robes and dresses for the lady members of your clergy. In design, we hold to the same considerations as we do in our other vestments, offering a full feature of traditional options as well as plenty of brightly inspired garments to finish your effect flawlessly.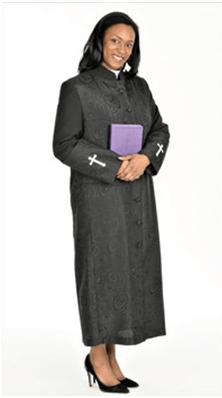 For a down to earth, basic option in lady's clerical garments, consider our Official Ladies Class A Vestment. Like our Class A Vestment for men, this selection contains a Black Anglican Cassock and cincture sized and matched appropriately to ladies, as well as a surplice, tippet, cord, and cross. It makes an excellent selection for those who are looking for the traditional effect.
By the same token, you can take advantage of the propriety of our Ladies Gershon or Rachel Clergy Robes, which are available in a range of colors from the most formal and traditional to the most contemporary. For example, our Ladies Gershon Clergy Robe in black is a full ankle-length garment that presents very formally while at the same time not offering plenty to appreciate in its beautiful brocade pattern. Keep in mind that it is also available in white, as well as other colors.
If you happen to be looking for high quality preaching dresses in something of the same vein as our Men's Trinity Robes that we explored above, consider for an example our Ladies Two Piece Preaching Skirt in purple. With a ruffled collar and flared skirt, this is the ideal selection for those looking to cast a little extra light on the delivery of their oration. You might also be interested in taking a look at our Ladies 1 Piece Preaching Robe Dress, which is available in eight different colors.
It would take much longer to enumerate the many inspiring options in vestments and robes that we offer here at Divinity Clergy Wear for both men and women, and rather we invite you to peruse our site. All of our garments for men and women are crafted from the highest quality fabric and to the highest of quality assurances. In addition, we offer them in a wide range of sizes to suit any customer's needs.
If you have any questions about our vestments or other products or would like a little insight into their uses, don't be shy about giving us a call at 877-453-3535 and we will be glad to shed a little light on the matter. Till then, enjoy our online collection; we're sure you'll find something to impress.