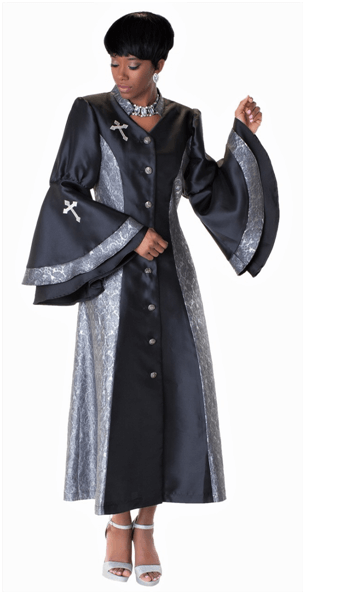 A fortunate externality of our industry is that we get to apparel clergymen all over the country as a glowing testament to the enduring glory of God. We get to spend time helping people who have devoted their lives to the betterment of others and to the lasting love of the world, and that's a great feeling. Each of our designs is meticulously crafted from high quality materials and represents the highest standards of design and quality of construction.
Unfortunately, sometimes the focus on clergy apparel for women clergy falls by the wayside, which is a shame because women clergy are some of the most esteemed members of any organization. For that reason, we'd like to take the opportunity with this blog post to do some justice to the dedication of the women clergy out there, and highlighting some of the offerings you can find on our site to set them up in their finest.
Clergy Robes for Women
Oftentimes, what you need more than anything is a set of robes that is an austere and lasting testament to the glory of the Lord as well as a nod to tradition. When you want to apparel yourself or the lady members of your clergy in a manner that does justice to the matter and subject of tradition, you can hardly do better than with some of the findings that are waiting for you right on our site at this very moment.
We've often stated in past blogs that there are typically two ways to go when searching for robes, vestments or even church dresses. In the first case and place, you can make the most of a traditional approach to inspire a congregation with awe and admiration. In the second place you can take advantage of contemporary style and flair to let the individual personality of a minister take center stage. As is the case in secular circles, there is a great amount of flexibility with women's fashion, perhaps even more than in men's. Therefore, enjoy some of these picks from our collection.
If the first case applies to you and you are looking for traditional clergy robes for women, then some of these selections will fit the bill perfectly. In the first place, consider a highlight from our collection like our Ladies' Class A Vestment that includes 6 pieces, and presents very much the same style as our men's vestment of the same name. This piece highlights a full length, high quality collection of garments and includes a black Roman cassock and cincture overlaid by a white surplice with traditional lace. It also comes with a black tippet and a 36 inch cord and silver cross. It is simple, demure, effective and austere. If you are looking to move a congregation in the spirit of the past that preceded you, and with the full graces of propriety, this is the vestment to use.
If you are interested in putting together your own set of vestments you can do so with the collections that you will find on our site. Consider as an alternative to the above our Gershon Clergy Robe for ladies in black. Although this set of robes offers the full force of severity with its dark, humble color, it contains a somewhat muted but still beautiful brocade along the fabric. Full length, modest and simple, it is a great set of robes to enable your lady clergy members to make a nod to tradition.
You can also find this set of robes on our site in other colors to make a better fit for environments that are sometimes in a state of flux. For example, if you are looking to add a little color and light to a setting, you can find our Gershon Robes for ladies in white and in white and red. That being said, it's just the tip of the iceberg when it comes to class and variety.
As we mentioned previously, we can offer you a lot of modern and contemporary styles in clergy robes for women that are sure to catch the eye. If you found your interest piqued or attention turned by some of our Gershon Robes, just wait until you get a look at some of these robes to follow.
There are times when you want to underscore rather than mute the natural light and personality of the members of your clergy. When you find yourself looking at situations like that, you might want to get more familiar with some of these following options.
Options like our Rachel Clergy Robe and Cincture for ladies in white with red are game changers for their innovation and classic colors. They put a twist on what might otherwise be an uninspiring set of robes and give new life to a design that, though it is proven, is aged. This set of robes is, as we like to say, one of our more stylish and contemporary offerings. The entire set is cast in glowing white with brilliantly contrasted red trim and piping, and it comes with a beautiful, bright red cincture. Unlike so many other cinctures that you are liable to find, this one is elegantly embroidered and finely fringed. It's impossible to miss.
Yet we can still offer so much more than just this. Consider something like one of our other Ladies' Rachel Robes in other colors for even better and brighter effect, or take a look at some of the robes and other church dresses for women to follow.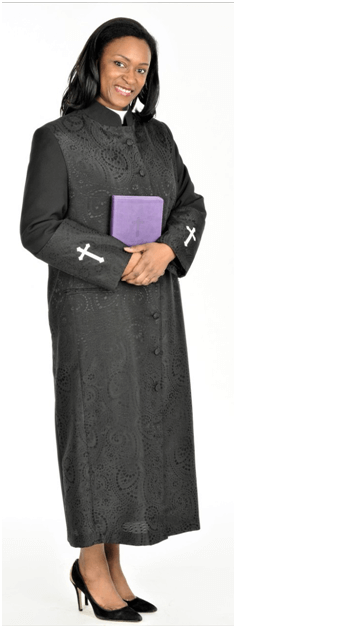 Preaching and other Church Dresses for Women
As handsome as so many of our robes for ladies are, it's hard to beat the style and poise of some of our classic preaching dresses and other church dresses for women. As much as a male preacher can inspire awe and respect when arrayed in simple black garments, so can a lady preacher inspire levity and warmth when arrayed in a shimmering, flowing, beautifully colored and patterned dress.
Right out of the gate we can hit you with some dazzling options in designs, options like our Ladies 2 Piece Preaching Skirt in purple. This particular offering capitalizes on the purple color that, though it is often reserved for members of the Anglican clergy, is widespread nonetheless elsewhere. Whatever the case in that regard, this is a beautiful 2 piece dress set with a lot of eye catching and arresting features that come as part and parcel of its cut. It is elegantly ruffled and even the cuffs of the sleeves offer some movement. It also has a mermaid style skirt for a little more angle and movement. Overall, it's a bright, beautiful cut that is fitting for many different situations, even without the addition movement of a pattern or contrast of extra color.
Another great example of a ladies' preaching dress can be found in our Ladies 1-Piece Preaching Robe Dress that you can find on our website in 8 colors. The more you take in the elements of design that went into the crafting of this dress, the more it will appreciate itself in your estimation. While at first glance it appears to be a simple, uncomplicated design, there is actually a lot more to it than meets the eye.
The first thing is the fact that it comes in a rainbow of colors, so if you wanted to you could get several of these dresses and switch up your wardrobe just by changing out the color. It actually presents a lot more depth upon more inspection in its shiny silken finish that will catch the light and play with it beautifully. Even more impressively, these dresses are adorned with rhinestone accents along the front trim and buttons. Overall, like the immediate precedent dress, it is a dazzling preaching dress to add to any rotation or set of vestments for leading or guiding worship, even though it comes without a division of color or pattern.
It would be understandable for you to seek even more depth and movement, as well as the harmony of the interplay of different colors in a set of preaching dresses for ladies, and you can find that in spades on our website. You can find a beautifully toned down example of that in our Ladies 1-Piece Preaching Robe Dress in black and silver. What this dress lacks in the bright colors of the first two models we investigated, it makes up for in style and flair.
This dress is crafted from beautiful, high quality jacquard and the level of detail involved in its creation is amazing. It makes the most of two tones, silk finished black and patterned silver fabric that is the utter icon of pulchritude. It also showcases bright, contrasting silver buttons along the black front of the dress that are accented by rhinestones. The shoulder and cuffs are embroidered with silver crosses and the sleeves are flared as the skirt is pleated to offer the ideal balance of motion and fluidity to the dress. Although it presents itself in simple, understated colors like black and silver, the dress is steeped in character and individuality that are completely impossible to miss. It is a dress that announces itself, despite what might appear to be humility of hue.
However, perhaps the best example of all of our options when it comes to flaunting color, movement and design can be found in our line of Ladies' 3-Piece Preaching Dresses that come with detachable capes and are available in a number of colors. We'll take a look at the blue version to illustrate our point.
Every version of this dress is a veritable stunner, with their contrasting colors and fluid movements, but the royal blue version stands alone for uniqueness and poise. Whether that is due to the arresting influence of bright royal blue tones or the fact that it is somewhat rare to find preaching dresses in such a color is up to you to decide. It's common to see them in black, purple, red and even gold and silver, but not so much in royal blue. We're bringing a real combo breaker with this dress.
Each of these church dresses for women comes in a 3 piece configuration with a detachable cape, and this one is arrayed in blue with the sharp contrast of stunning gold crosses and trim. The dress has a full cut and the entire piece flows and moves with remarkable celerity in accordance with the movements and grace of the speaker. We like to think that the man makes the clothes rather than the clothes making the man (although in this case we're talking about ladies) but with a piece this spectacularly arresting, it can be hard to argue otherwise.
Other Selections in Clergy Shirts for Women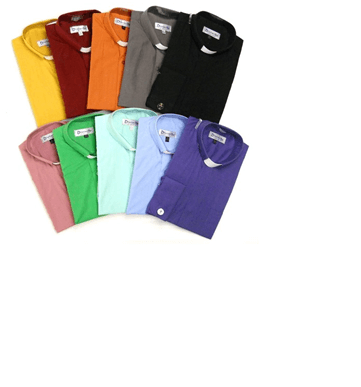 If you're more interested in the old school clergy shirts for women that you might be able to find, instead of in robes or dresses, you can find them on our website as well. Right here on this page, you can find clergy shirts for women as well as for men, in just about any color you could desire. Whether you're looking for something simple with the effect of a button down dress shirt ot played up and with the traditional effect of a black shirt and a tab collar, you can find it right there.
Also, in the event that you could use a little help sifting through all of our different options or get lost among the styles, we understand. There's a lot to take in and absorb and it can be hard to do it in a sitting. If that's the case with you, don't hesitate to give us a call. We take customer service and satisfaction very seriously and we'd be more than happy to lay aside any concerns you might have, or answer any questions you might have on products or uses for our many styles of vestments. You can reach us at 1-877-453-3535, so pick up the phone and give us a call the next time you're shopping through our catalog.