The world of clerical attire and vestments is complex and it can certainly be confusing. We're here to make your search for quality, stylish female clergy attire simpler and more enjoyable.
Consider these top picks from our collection of women's clergy robes and accessories, all of which are best-sellers here at Divinity Clergy Wear.
Ladies' 2-Piece Preaching Skirt Set (Black)
This stunner is among the top sellers from our entire collection of female clergy attire. It features remarkably high quality and an unforgettably unique style.
The full-cut fit is form-flattering and the skirt showcases an attractive mermaid mermaid-styled ruffling. It's also elegantly accented with a ruffled preaching-style collar.
It's available here in a wide range of sizes and can be shipped with a garment bag to protect it.
And, most importantly, if you love it but don't like black, it's offered here in several other colors as well.
Ladies' Gershon Clergy Robe (Black)
Now let's take a turn toward the more formal. This Ladies' Gershon Clergy Robe (black) is dignified, austere, and elegantly assembled.
This ladies' clergy robe is full-cut and comes with an elegant brocade pattern along the front and back, and features two traditional embroidered cross accents on the cuffs.
Simple yet powerful, this black ladies' clergy robe makes quite a statement. It, like the 2-piece dress set mentioned above, is also available here in several sizes and colors.
Ladies' Class A Vestment (6 Pieces)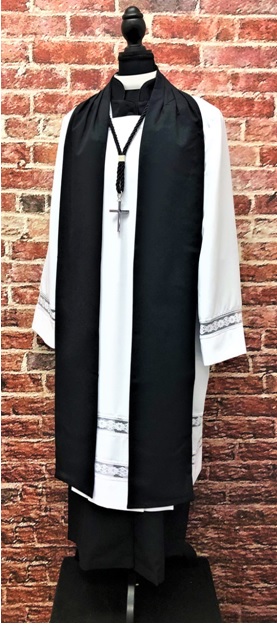 We also offer a Ladies' Class A Vestment Set (6 pieces) and it is one of the top-sellers on our site, specifically among female clergy attire.
This vestment set comes with a ladies' black Roman cassock and cincture, a white surplice accented with traditional clerical lace, a black tippet, and a black cord and silver cross.
These Class A Vestment Sets are a great way to bundle and save and are a true highlight from our collection of ladies' clergy attire.
Ladies' Rachel Clergy Robe (White and Purple)
Slightly more sophisticated and complex than our Gershon ladies' clergy robes, a step in the more ornate direction is our Ladies' Rachel Clergy Robe. The white and purple version is one of the best-sellers on our website, although it is also available in several other colors.
These are some of our most stylish and contemporary robes and feature bright, contrasted trimmed piping and buttons down the front of the robe and sleeve cuff. They are further ornamented with satin-contrast triple-stitched pleats along the skirt of the robe.
Ladies' 1-Piece Preaching Robe Dress (White and Purple)
Our Ladies' 1-Piece Preaching Robe Dress (in white and purple) is a popular alternative to the 2-piece dress mentioned at the top of this article.
It features less austere styling and a more ornate design, with a full-cut fit, a shiny silk look, and a two-tone pleated skirt. Like the other entries listed here, it is also available in several other colors on our website.
Moreover, this 1-piece preaching robe dress is elegantly accented with a dignified rhinestone trim, as well as front buttons ornamented with glittering rhinestones.
Ladies' Apostle Vestment Set (8 Pieces)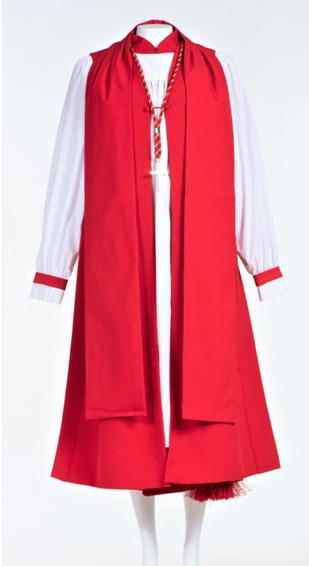 We also carry Ladies' Apostle Vestment Sets (this one has 8 pieces) which are among our top sellers. They exhibit unique style and objectively high quality.
These sets come with a Roman-style robe, along with a cincture and a poly-cotton fluted rochet. They also come with a traditional chimere - colored red, in the habit of classic apostle vestments - as well as a matching tippet (red) and a gold cross and cord.
These full-cut garments manifest excellent quality and are some of the most unique designs in our online shop - if you're looking for women's apostle vestments, don't pass them by!
Ladies' 3-Piece Preaching Dress (Purple and Gold)
Perhaps our most ornate ladies' preaching dress of our, our Ladies' 3-Piece Preaching Dress in purple and gold is a classic favorite and one that is indelibly marked with a unique sense of style and undeniable class.
This dress features a full-cut fit and is elegantly and ornately accented with embroidered golden crosses and trim. It also comes with a detachable cape, and, if you would prefer, is available elsewhere on our site in different colors.
This is the dress to choose if your aim is to dress with poise and grace!
Ladies' Mary Clergy Robe (White)
One of our statelier and more austere offerings, our Ladies' Mary Clergy Robe (in white, though it is also available in other colors) is a sure bet for prestige and dignity.
This full-cut highlight among female clergy attire is not without its own sense of personality, however, and comes with a traditional liturgical brocade pattern with a matching design on the cuffs.
It also features a zipper-front closure and has a pocket on the right side, adding to the convenience of its design.
Ladies' 33-Button Roman Cassock

Last but not least is our Ladies' 33-Button Roman Cassock. Although not technically a vestment, no collection of female clergy attire (or male, for that matter) would be complete without a classically inspired cassock and cincture set. This is our contribution to tradition.
This dignified 33-button style Roman cassock in black features a full-cut fit and is made from high-quality material. It also features front pockets, a side pocket for pants access, and features a pleat at the back of the robe.
Elegant and stately, our ladies' cassock is a rival in every way for our men's entry.
Come Experience the Quality of Our Female Clergy Attire in Person
These are only a few of the top sellers from our collection of female clergy attire. If you'd like to see more of our highlights, check out the previous link for more inspiration.
A better alternative, however, would be to get the full experience offered by Divinity Clergy Wear, and there's only one way to do that: with a visit to our showroom.
Fortunately, we're conveniently located about halfway between New York City and Philadelphia, putting us within easy driving distance of most people in New York, Pennsylvania, and New Jersey.
So come on down to pay us a visit and see how we can change your expectations for female clergy attire.