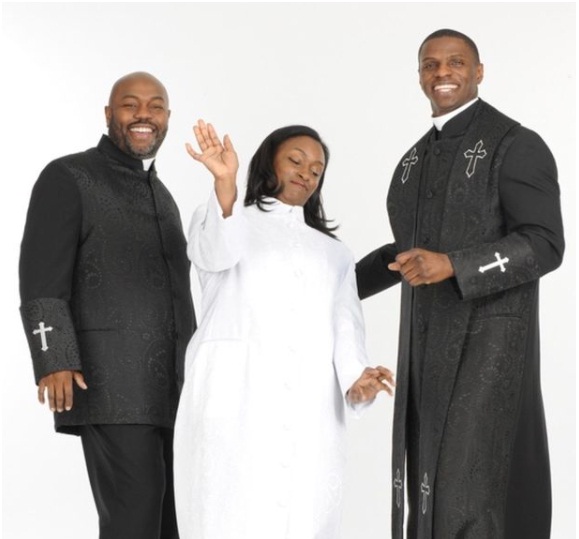 Clergy jackets are used to varying effect by a large number of clergy men and women, as well as other celebrants and members of the church assembly. A portion of clerical dress that does not count as proper vestments, clerical jackets can be used effectively by a wide range of participants in order to place the right accent on emphasis on their engagement in or delivery of services.
They're also useful for participants in a service who, as they might not be ordained, cannot or should not wear vestments, but wish to put forth the proper appearance anyway. That being said, there are fewer formal constraints associated with jackets than there are with other clerical attire.
Like choir robes, academic robes, and potentially even judicial robes, there are also given guidelines for who should or should not wear clergy jackets, but that is a topic for another time. In this piece, we'll cover some of the questions you might want to ask yourself before making such a significant investment that you'll probably keep for the rest of your life and may even hand down.
1.When will I be wearing a clergy jacket?
Probably the first and most important question you should ask yourself is this one or one like it. That is to ask, what is your reason or purpose for buying a clergy jacket ? If you are an ordained member of the clergy of your church, then you might want to get a clerical jacket as a compliment to your other clerical robes, or one that you can wear when you are not actually delivering the service, such as when you're ushering or simply serving the altar, if you ever do that.
Ordained clergymen and women have plenty of uses for clerical jackets to support their duties at various times of the year, which is also a reason to be apparreled with a range of robes for the different times in the liturgical calendar.
Others who are not ordained members of the clergy might still find practical uses for clerical jackets in their collections, especially if they serve in supporting roles during any services. That's a matter to take up with the members of your church, but you might want to have one on hand for the times during which you're helping out.
2.Should I pair clergy robes with this, or get robes to complement it?
Another question you need to ask yourself before you make an important purchase is whether or not you need to get robes to accompany them. Granted, you'll rarely if ever wear them in the same time or in company, but getting matching robes to a jacket is a great way to boost your personal "brand."
During services when you aren't serving as the official celebrant, you may want a jacket or a set of jackets to serve as a complimentary piece to the robes you'd be wearing on other days. At the same time, you might also want to have a jacket that matches or pairs well with the vestments of your fellow clergymen and women.
Here at Divinity Clergy Wear, it's as easily done as said. We have a commendable collection of clerical jackets and other clerical accessories and apparel, and we also have a wide range of vestments that are remarkable for their character as well as their diversity of appeal. In other words, if you're hoping to find a series of sets of jackets and robes that compliment, even flatter each other, look no further!
3.What is it made from?
Let's be pragmatic, a clergy jacket is not a t-shirt, nor should you approach the purchase of one in the same fashion. It is not a garment that you wear for a few years and then donate. It's the type of purchase you make once, for life, and then with a little luck will be able to hand down someday.
This makes clergical jackets a lot like clerical robes. These types of garments should represent the best possible quality available at the time for their manufacture, and ours certainly do. In our jackets, as in our robes and all of our other clerical accessories, quality takes the front seat. It takes every seat, really.
Quality underlies everything we do, whether in customer service or in the production of our quality vestments. Made with thick, durable, heavy fabric and elegant embroidered and brocaded, our jackets, like our robes, are made to the highest standards of quality. You can expect the finest fit and finish on our robes and jackets of that available anywhere.
Take a look through our collection of jackets and let us know if you have any questions about what, specifically, they're made from. The time to be sure if before you put money into it, and we're here for you!
4.Is it available in my size?
This is a question that should follow you around everywhere you go when you're shopping for clothing, no matter what type of clothing it is. You should also, in this case, approach it in the same fashion as was described above. Don't think about the purchase of a clerical jacket in the same manner that you would approach the purchase of a t-shirt. This is like buying a fine, tailored, three-piece suit. It's a purchase for life; do it right the first time.
You'll notice something when you take a good look through our product pages. We don't just offer medium and large, in the fashion of so many other retailers. In many cases, we offer jackets and other clerical garments in a huge range of sizes, in some instances even extending all the way up through 7 or 8XL.
Think of it this way. What's the purpose of buying a clergy jacket if you can't wear it? No one buys a jacket expecting to look less than their best in it, and you shouldn't either. Check out our collection and see if the jacket that speaks to you is available in the size you need, and if you have any questions or concerns, call us ahead of time. We'll get to the bottom of it for you.
5.What other styles are available in addition to this one?
One of the things that attracts our customers to us is the fact that we offer so many varieties and so many options. Some robe and jacket producers create a few different styles and call it a day. There's nothing wrong with this, and it appeals to some customers. We understand that some buyers like nothing more than the standard, demure approach to creating vestments. For them, it's more of an opportunity to create a sense of reverence than style.
That's the point of the variety that we provide. We create simple, understated designs for those who place a premium on the value of austerity, even severity in their clerical garments. But that's not all we do. We go the extra mile and create designs that are the icon of fashionable inspiration.
Stately black and uplifting white are only the beginning of what we offer here at Divinity Clergy Wear. Are you more interested in the bright, striking tones of a beautiful royal blue jacket? The regal character of a rich burgundy piece? Perhaps you're more interested in a black jacket with brilliant red piping. We provide designs in a rainbow of colors and with an array of features that will dazzle you.
6.How long will shipping take, and how much will it cost?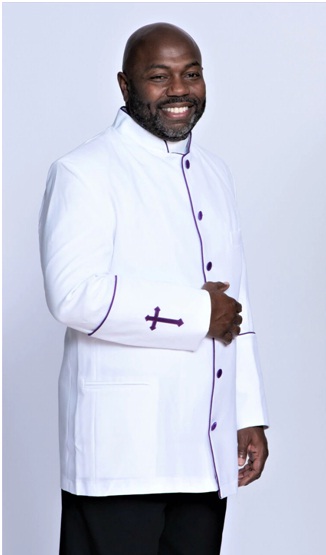 We recognize that these are the types of purchases that are effectively never made in haste, and therefore you probably aren't particularly worried about how long it will take for you to get your new jacket. It's not the type of thing you purchase on a whim, anyway. Best to take your time, do your research, shop around, and get the right one, even if it takes a little while.
Custom orders and orders containing more than one item will take a little bit longer to ship, but even these will usually ship within two weeks of the order date. Many of our other items will ship in only one to three days. To be sure, you can check our shipping information or call us for specific information on what to expect.
In addition, you might be wondering how much it will cost to ship your new clergy jacket. You'll notice on some of our project pages that free shipping is an option. If so, you can enjoy free shipping on the purchase. To look into this, check out our collection of jackets and robes or call us for more information.
7.Can I have it shipped in a garment bag to protect it?
Since the purchase of a clergy jacket is one that you'll hopefully only make once in your life, or at least with the hope that each purchase will last you for many years, you'll understandably have concerns about protecting the garment during shipping. You should also be concerned about providing the proper protection for the garment even after it gets to you.
Think of this; you might need to bring that clergy jacket somewhere before you wear it, and you won't just want to throw it in a bag with your clothes. It deserves respect and proper care, and to afford that, you'll need something like a garment bag.
You can get a garment bag anywhere, but we give you the option of shipping your purchase with garment bags so they get an additional level of protection during shipping and one that you can use afterward. You have the option right on each product page.
8.Where can I get other clerical attire and accessories?
While you're shopping for clergy jackets, you might also have the need for other clerical accessories including but not limited to clergy robes and other vestments, along with other garments like cassocks, albs and surplices.
In addition to these, we also sell a wide range of clerical accessories including but not limited to crosses and cords, tippets and stoles, usher gloves, cinctures and much more. We also sell a wide range of clergy shirts, including banded collars and tab collars, along with preaching jackets for ladies.
9.Who can I call if I have questions?
Finally, you might have a question, or several, about the jacket or accessories you are considering purchasing. Whatever the questions are, it's best to answer them before you make the investment, and you'll need to lean on the experience of a qualified and well-informed customer service team if you hope to get the answers!
We love hearing from our valued customers and we're proud of our customer service. So are our customers, by the way. Give us a call anytime you want to lay your questions to rest. Whatever they are, we'll get to the bottom of them - call us at 877-453-3535 and we'll help you out.
10.Where can I go to try this clergy jacket on, if I want to?
There's one more thing you might want to know about before you get yourself a new jacket. Actually, you might be asking this question anytime you're looking at purchasing a new piece of attire, whether it's clerical or otherwise.
There are some things that you can buy with confidence on the internet, without too many concerns. As an example, a book is a book. There's not too much that can surprise you with one; one size fits all, so to speak.
Clothing is not like that, and an item of clothing presents a unique experience for each person, and some clothing flatters one individual while failing to meet the expectations of another. That's just how it goes shopping for clothing, and it extends to clerical garments as well.
Divinity Clergy Wear does not just sell clerical garments online. We also have a showroom in Hamilton, New Jersey, and would love to have you visit us in store so you can really get a personal impression of some of the jackets and vestments that we sell. Give us a call at 877-453-3535 to set up a time to come see us. That way, you'll know what you're getting before you buy it!