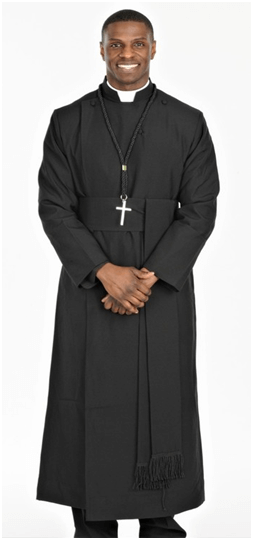 We've been among the first to say that in clerical apparel as in any other styles of fashion, there is more than one direction you might wish to go. While there are some who do not wish to diverge from tradition, there are others who want to grace their pastors, preachers and priests with contemporary styles that will accent the oration they deliver with a divine and uniquely hued light.
There are a number of benefits to either approach. On the one hand, standing by tradition is a noble and effective attempt to preserve the integrity and consistency of liturgical proceedings. As throughout history scriptures have been annotated and interpreted, so have been the processes of the different sects of the church. Conflicts have arisen regarding the style hair kept by monks in monasteries, as well as off the fitting nature of the use of a garment as innocuous as a surplice.
By adhering to tradition we are honoring the ways of those who came before us, and, as God's wisdom has stood for all time, there is nothing wrong in this. In fact, it is commendable to honor the past and to keep the ways of those that moved before us and paved our way. This honor of tradition is a humbling reminder that we do not have all the answers to life's questions and that those who went before us smoothed the road for us in their wake, so to speak. This goes not only for our personal relations but also for the members of the church who were instrumental in interpretation and reform.
Yet, interestingly enough, the very nature of reform and alteration are revolutionary principles and are responsible in theory and practice for many of the changes that have come about over the years. Broadly speaking, they were the reason behind the original Great Schism; they were in some part responsible for the reason that the western half of Europe and much of the new world is now represented by many different protestant churches.
Yet each of these different segments of the greater church has its own reasons for adhering to or diverging from the principle of tradition. They all find their fundamental inspiration from the same Holy Scriptures and therefore have more in common with each other than they have different, and the principles of tolerance and divine love guide us toward forgiveness of those who are different from us, anyway.
Therefore, with that being said, we here at Divinity Clergy Wear are ready to offer a number of different vestments for those who would wish to cleave to tradition, as well as those who would like to see their clerical wardrobes accented with a new and contemporary light. We find fault with neither approach, and that is the very reason that we offer so much diversity of style in our online catalog. Therefore, with no further ado or explanation, let us take a look at some of the many fine offerings you will find within our catalog of clerical wear.
Official GCPE Approved Class A Vestment - 7 Pieces
Our Official GCPE Approved Class A Vestment that comes with 7 pieces in total is one of our finest offerings, bar none. It comes with a full suite of liturgical vestments that can be arrayed to aptly fit any time of year or any clerical procession.
As a part of this set, you will find a black Anglican cassock that comes with a matching black cincture. On their own, these two pieces of the set are more than suited for many of the sermons and functions of your church. There are many priests who go about their average day with no more ornamentation than a black cassock and cincture - in fact, in some sects, this is considered the "uniform" of a priest, so to speak.
This offering brings more to the table than just a black Anglican cassock and cincture, however. This selection also comes with a white surplice finished with traditional lace as well as a black tippet. Throughout history, the surplice has followed a somewhat tumultuous road, whether by design or by impression. It seems that no one agrees on its use as a clerical garment or whether it should be reserved for choristers or lay people assisting with a proceeding. Nonetheless, you will often see a priest wear a white surplice over a cassock when delivering communion. You will also often see priests wearing a stole or a tippet as a part of their communion-delivery array, and so there is a tippet in lieu of a stole included with this set. The tippet that comes as a part of this set is also finished with a COGIC seal affixed to it.
Finishing the collection, this set comes with a black chord and a silver cross to complete the entire look. It is a fine addition to any collection of traditional liturgical wear, and can be parsed as you please for the style you wish to affect. There is little more traditional than a simple black cassock and cincture, after all.
Anglican Clergy Robe with Matching Cincture Belt
Here is another excellent example of what we mean when we say that we are well poised to offer traditional vestments to our customers. In a slightly different version of the above 7 piece offering, we also have selections like our Anglican Clergy Robe that comes with a matching cincture belt.
Unlike the previous offering, which comes with the addition of a surplice and tippet and a few other niceties, this offering is much starker and more simplistic. This affords us a nice and convenient opportunity to segue into the prevalence of black in clerical garments. It is not something that is uncommon at all; in fact, the more you become familiar with clergy robes, the more will you realize that black is one of the most commonly used colors associated with church garments.
This does raise some interesting questions, since we don't generally tend to think of Divine love as stark or severe. So why then are so many clerical garments laid out in black?
The answer goes back to a time before ours wherein the principles of abstinence and forbearance were highly esteemed; significantly more than they are now. To most people envious of the post, the position of priesthood was not one to be exalted. Rather, the position was one that came with a constant memory of original sin; and that by donning the cloak of the priest you would be committing to a life of devotion to rectifying secular ills. That is one of the most commonly cited reasons that black is a color so commonly associated with clerical garments like a cassock and cincture.
Our Black Anglican Cassock and Cincture is made with an overlapping front and double button closure along with triple inverted pleats along the back. It is made in high quality black viva fabric and would make a perfect addition to a collection of traditional pieces; better, perhaps than anything else you will find.
Men's 27-Button Roman Cassock & Cincture in Red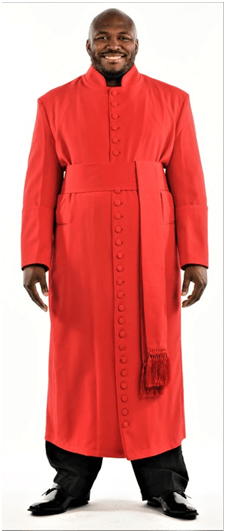 Since we mentioned the significance of the color black in clerical attire, now would be a good time to explore the significance of some other colors that are common within the church as well as why. We can take a moment to do so by introducing another one of the wonderful traditional styles that you will find here on our website: our Men's 27-Button Roman Cassock & Cincture in Red.
This cassock and cincture pairing comes in the form of high quality red material that is ideal to stand up to many years of devoted use. It has side pockets as well as front pockets and is one of the finer, and brighter offerings on our website that you will find for traditional use. That begs the question then, why is red so common.
Well, today we generally associate red with the church, regardless of what sect we belong to, because the cardinals of the Roman Catholic Church wore red. This association is so cemented in the minds of the general public that when the Europeans came to the new world, they saw bright red birds flitting around and gave them a name which stuck - cardinals.
Traditionally, Cardinals - the Cardinals of the Roman Catholic Church, that is - wore red to symbolize their faith and devotion to the Pope as his closest and more trusted advisors and disciples. Even afterwards, red became a commonly worn color at certain times of the year among other clergymen, such as around Good Friday and Palm Sunday. This is because red has long been associated with passion and blood, and thus, with sacrifice. Whether the associated came first or was a later development is for anyone to say, but nonetheless, for this reason the color remains common among vestments.
Overseer Vestment in Royal Blue with 6 Pieces
Here is another great offering from our catalog of options that is great for a formal look, although it is just starting to tread the waters of contemporary style. This high quality vestment includes a number of traditional pieces and diverges slightly from the previous offering. It comes with a 27-Button Roman Style Robe and a matching cincture which can be overlaid with its poly-cotton blended rochet and a traditional chimere. Most notably it comes with a royal blue tippet and cord along with a cross. While in terms of cut and style it is very traditional, the bright royal blue spirit of the entire ensemble toes the line. Is it entirely traditional or suffused with the spirit of contemporary influence? To answer that question, we need to take a look at the significance of the color blue as we did with red and black before it.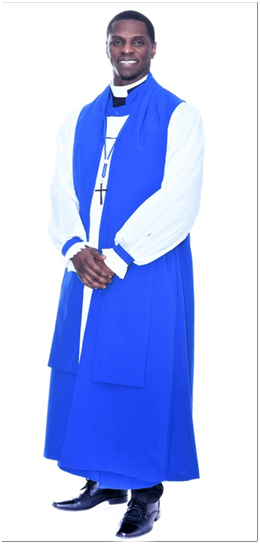 Blue, even royal blue, may not enjoy the same level of commonplace symbolism within the church as black and red do, making it more striking. It does, however, occupy a special niche that makes its use more suited for specific holidays throughout the year.
In any given situation, the color blue may be chosen to represent the sky in general or the heavens in specific, from which come the angels and emissaries of the Lord. In fact, sometimes the color blue is chosen to represent a symbol of the coming of the angels in advance of the birth of the savior.
More specifically, royal blue is used to pay honor to the coming of a king or in the presence of a king. Some denominations use royal blue vestments during the advent since that heralds the coming of the king.
Speaking of this specific use of symbolism, you will sometimes also find purple used in the same manner. In fact, it is arguably even more common to find purple as a symbol to honor royalty, partially because of the historical significance of the color purple. Phoenician merchants and nobles of old were known by the rich purple garments they wore that were produced at great cost using a very specific ink. Today the color is known as royal or Phoenician purple, and it is still an expression of wealth, regal prowess, or as honor to a king. It is also one of the reasons, although there are others, that purple is such a common color among clerical garments.
As we stated at the outset of this article, there is more than one way any given person might wish to go as it respects the design of clerical apparel. The choices highlighted herein only represent a very small portion of the wares that we offer on our site, along with some helpful associated insight on their color-symbolism.
We offer many other vestments on our website, along with clergy shirts for men and women, robes and preaching jackets and even dresses for the ladies. Check out some of our other categories and as always, don't be afraid to reach out to us. We would be more than happy to fill you in one some more of the history and symbolism behind some of these garments, or even to make recommendations. You can reach us at 1-877-453-3535.