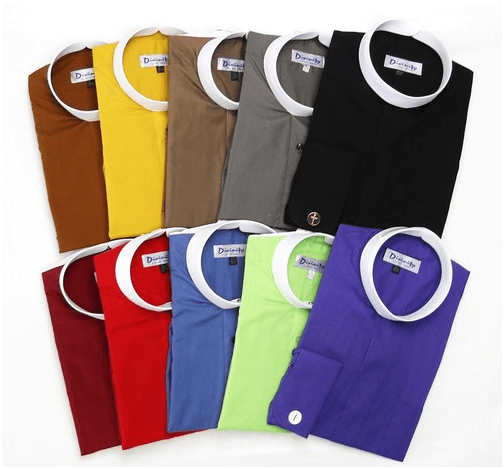 Don't get lost among our collection of unique clergy robes and shirts and preaching jackets for men. There are plenty of them in plenty of styles that you simply won't find anywhere else, but if you need to put the accent on some of the women members of your clergy, don't leave our online store without checking some of them out. Not only do we have clergy robes and shirts for men, but we have even more glowing styles for women, and all right here on our site.
As we've said many times before, there are those occasions where your clergy need to present the sternest front of decorum and the highest adherence to tradition, and we make it much more than possible to do that. Putting aside the many examples of robes that you will find on our website that are dedicated to the men members of your clergy, you can find similar impressive robes for the ladies. Some of them are styled after our other patterns while others are entirely unique.
Here on our website you can find traditional options like our Ladies Class A Vestment that comes with 6 pieces and is a mark of honorable adherence to tradition. It comes with a black Roman cassock and cincture and a white surplice with traditional lace along with a tippet, cross and cord to top it all off. Alongside options like this one which are nearly universally practical you can also find ladies robes such as our Gershon and Rachel Clergy Robes which are absolutely ideal. Not only that, but you can find each of them in a suite of colors.
At the same time you can find many grand examples of other clergy robes for women on our website, as well as other options for decorations such as our clergy shirts for women clergy. Options like our Ladies 1 Piece Preaching Robe Dress, which is available in 8 colors, cannot be matched for style. Floridly decorated with rhinestones and finished with a silken luster, this dress stands head and shoulders above any competition for style and appeal. That, and it also makes a fine addition to the rotation of any lady clergy member. You can also find many other fine examples of other preaching robes for ladies, each of which offers something unique in terms of style upon which you can capitalize to garnish the natural light of your lady clergy members with a little bit of flair.
In addition to our many robes and dresses, you can also find a fine sampling of clergy shirts for women right here on our website, in whatever color or style you could possibly desire. Are you looking for clergy shirts for women with a tab collar? Then you might want to check out our collection of tab collar shirts, which we offer in an impressive range of sizes and even more colors. Here at Divinity Clergy Wear we offer such shirts in a range of 35 colors. That's enough for several for every season, and certainly enough to keep any oration from ever becoming overdone.
Sprinkled through our collection of clergy shirts for women and men you can also find many hidden gems that you can use to put a bit of a new angle on your wardrobe. You can find many fine examples of two toned clergy shirts as well as clergy shirts that are fine embroidered to make a match for the rest of any set of clerical vestments.
Whether you've come to us here at Divinity Clergy Wear in search of clergy robes for shirts for men or women - or for any other hard to find vestment, one thing is certain in any case. We take customer service very seriously and we want to ensure that every order is one to please.
Therefore we welcome you to take some time to get familiar with the different vestments that we offer here on our website and to read our blog for some more information and a little history on each of the many different types of vestments that we offer.
In addition, we welcome you to reach out to us if you have any questions whatsoever on our products, their history or use or even their design. We'd be more than happy to shed some light on a topic that at times can be relatively misunderstood or confusing. We'd also be glad to field any questions related to style and construction and what materials we include in the manufacture of the many vestments you will find on our site. You can reach us by phone at 877-453-3535, and until then, we very much look forward to hearing from you. In the meantime, feel free to peruse our online store to find the next set of robes or vestments to add to your rotation.