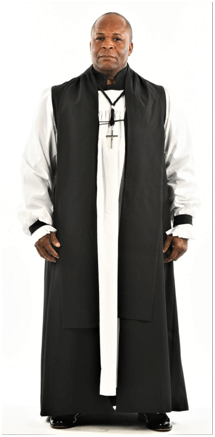 Today is your lucky day. Today you have stumbled upon a veritable gold mine of pastor robes. And if that happens to be what you're looking for, then you've hit the jackpot, because while we specialize in providing pastor robes, we can offer you much more than just that.
Are you looking for a cassock and cincture? Maybe you are looking for a new collection of stoles in new colors or with colorful embroidery to refresh the look of your clergy. Perhaps you are looking for preaching dresses for ladies, or maybe you are even looking for accessories to tie a look together. Whatever the case might be, if you are in the market for clergy wear, our name says it - we have it all, for men and women.
We're much more than just an encyclopedic selection of pastor robes, however. The great thing about shopping with us here at Divinity Clergy Wear is the fact that we offer so much diversity in style. You can come to us looking for the most austere pastor robes possible to offer the sternest decorum, or you can come to us looking for pastor robes to add some extra flair to your clergy wear.
If you understand the value in offering the most stringent and reserved appearance among the members of your clergy, then look no farther than our Anglican Clergy Robe with a matching cincture belt. This particular set of pastor robes is available in black, red and purple to reflect different symbolic weight associated with those colors. Black, for example, is a color commonly worn among the clergy to serve as a reminder that their duties are secular as well as divine. This particular set of clergy robes is simple, dignified and serious. If you're looking for an all-purpose set of pastor robes that your clergymen can wear throughout the seasons and times of the liturgical year.
By the same token, our Pastor Vestment in black is a great set of pastor robes that can be put to wide use. Simple, effective, and powerful, this arrangement includes a 27 button Roman-style robe and matching cincture, along with a fluted rochet, chimere, tippet, cross, and cord. We mentioned that the color black signified the secular duties of the clergy - the color white signifies the purity of divine love. These robes make artful use of the interplay between the colors.
These are some of the sternest, most traditional offerings among our clergy apparel. If you are looking for robes to bring out some of the personality in your clergymen, then we can help you out on that front as well. Options for men like our Adam Clergy Robes, Paul Clergy Robes, Joseph Clergy Robes and many more can set your pastors or preachers up in style. We offer them in a variety of colors and in many different styles of decorations for you to choose from.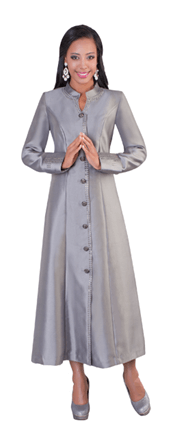 As we mentioned, we are also a prime supplier of women's' clergy robes, and if you come here you'll get exactly the same experience, plenty of variety in traditional and more contemporary offerings. Ladies' clergy robes like our Gershon and Rachel Ladies' clergy robes are wonderful additions to any collection of clergy wear, and are available in simple black and white stylings or adapted to a wider color palette. You can find these robes in combinations of white, red and black as well.
On top of these selections in ladies' pastor robes, we can offer you one of a kind designs in ladies' preacher robes that have no equal. Take a look through some of our options in ladies' preaching robes and dresses to find the style and the colors you're looking for, whether you want a preaching dress in a two-tone combination with a detachable cape or a dress in a single solid color. We can offer you that and more - you just need to check out our styles to find the ones that speak to you.
In addition to our clergy robes for men and women, we offer you the accessories that you'll need to tie everything together during the changing times in the liturgical calendar. If you need a surplice for use as a choir robe, a new set of stoles, clergy collars or crosses to accent everything, we can set you up with that.
We offer one of the largest collections of clergy wear on the internet and we'd be happy to help you find just what you need. All you need to do is take a look through our website to find your favorite styles. If you have any questions regarding our products or you need help finding anything, don't be a stranger! Give us a call at 877-453-3535. We look forward to hearing from you.